27 March 2008 Edition
The Brian Keenan interview: The Brian Keenan interview: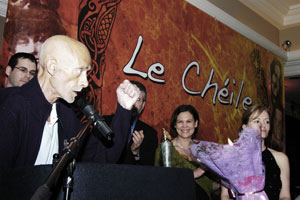 BRIAN KEENAN joined the IRA in 1968. In the intervening 40 years he became one of the IRA's foremost strategists and a thorn in the side of British imperialism.  
Shortly after joining the IRA, Brian went on the run and spent the next 25 years living apart from his wife, Chrissie, his children and his grandchildren.
He served 16 years in various jails across England in Special Secure Units (SSUs).
His pivotal role in the struggle was recognised last month when he was among the honourees at this year's Le Chéile celebration.
Ahead of that honour, Brian spoke to JIM GIBNEY for the first time publicly about his life as a husband and father of six children, as an IRA activist, his years in jails in England and the influences that shaped his early life.
This is the first instalment of a three-part feature where Brian Keenan tells us, in his own words, what has driven one of the most formidable foes the might of the British state has ever faced.BRIAN KEENAN was born on Belfast's New Lodge Road in 1941 into a family of six children.
His family home was hit by a Luftwaffe bomb during the blitz on Belfast during the Second World War and the family was evacuated to South Derry, where the young Brian started primary school before returning to Belfast when the Second World War was over.
For the entire Second World War his father, Harry, joined the fight against Hitler as a member of the British Royal Air Force. He was based in England at Packlington RAF Bomber Command Base aerodrome, from where the RAF ran regular bombing raids on Germany and Nazi-occupied Europe.
During the war his mother Jean raised the family on her own.
His father rarely spoke about his years in the RAF or the war despite being awarded a commendation for bravery when he saved the crew of a bomb-laden airplane which had crash landed on take-off. The King of England also acknowledged his bravery in a quotation in the London Gazette.
Brian's father and a comrade waded knee-deep through thousands of gallons of aviation fuel, pulled the stunned crew from the stricken aircraft and dragged them from a potential inferno and almost certain death.
It took Brian many years to understand his father's motivation in joining the RAF. His father had joined the boys' RAF service at 15 in 1924. It was a way out of poverty for the teenager like thousands of other Irish men before him.
In time, and after many heated rows, Brian came to realise that his father was "a man of integrity, a courageous man, a man of his times, who did things according to his lights. He was a clever man, educated at Harding Street School."
One of life's interesting twists of fate is that Packlington aerodrome became the site on which Full Sutton Prison was built. Brian's father would have walked the base on duty. Brian himself walked the same terrain as a political prisoner. He was a prisoner in Full Sutton. Both their feet traversed the same piece of ground separated by nearly 40 years of time and two different types of war entirely.
When the Second World War was over, Brian's father returned to Belfast and the Keenan family set up home on Belfast's West Circular Road.
Belfast in the 1940s was a tough place for people rearing a family. Work and money were scarce and service in the British forces was of little benefit to those coming home to poverty.
From a very young age Brian carried a hurl with him as often as he could.
"In my youth, republicanism did not come into it. I was always nationally minded. I played hurling as a teenager."
The hurl was also a magnet for the attention of sectarian bigots on the Shankill and Springfield roads, which Brian had to pass through on his way to school or training at the GAA's Corrigan Park on the Falls Road. He was often attacked.
As he was growing up he experienced at first-hand the sectarianism that was prevalent for Belfast Catholics.
"Sectarianism was a way of life. Sectarian tension was always there. It didn't stop you going about Belfast but you were always aware that you could end up in a fist-fight if you travelled too far from the safety of your home streets."
It was this sectarianism that led a loyalist mob to the door of his family home to drive his mother and father out of their house at the onset of 'The Troubles' in 1969.
It was also the first time Brian Keenan carried a gun. With other armed IRA Volunteers, he arrived to protect his family and bring them to safety.
Brian was angry and wanted to burn his parents' house to the ground. The previous week, his grandmother had died and his father had had a heart attack and was in hospital. His mother told him very firmly: "If you touch a brick of that house, you're no son of mine!"
Brian's mother's generosity was absent from the family whose house the Keenans got. Self-proclaimed Christians, they destroyed as much of the house as they could before they left.
Sectarianism was not confined to the streets of Belfast. It was also in the workplace where Brian, in his first-ever job, personally experienced "second-class citizenship".
It was while working as an apprentice electronics engineer that Brian joined the Electrical Trade Union (ETU), one of the more radical unions of the time. He was 16.
"I first became acutely aware that I was regarded and treated as a second-class citizen when I started work. I was an apprentice engineer. Engineering was the preserve of Protestants. From day one I was made to feel second class. In those days you kept your head down. You were lucky to have a job and you wanted to keep it."
In 1958, Brian moved to England to escape the sectarian harassment he was experiencing in work.
He continued his apprenticeship in Luton in a firm which made guided missiles and it was there he met trade unionists involved in the Campaign for Nuclear Disarmament (CND). They refused to build missiles designed for offensive purposes but built defensive missiles.
His involvement in trade unionism deepened and he attended his first union convention as a delegate when he was just 17.
While in the Luton factory and the ETU his class consciousness began to take shape and it was from this point onwards that he analysed politics through a "class prism".
He is not sure where his interest in class politics came from. There were no members of his family who were staunch trade unionists, although his father was active in housing issues on the West Circular Road and was chairperson of the local tenants' association in the early 1950s when few others had such an interest.
He thinks he may have acquired his early social conscience from his dad's involvement in local community politics.
While in England, in 1960, Brian married Chrissie. He moved back to Belfast in 1963 where he continued his involvement with the ETU and trade union politics.
"From a young age my political outlook was shaped by my interest in trade unions. My brother was in the boiler-makers' union."
Brian got a class perspective on politics from his involvement in union work, strikes and working conditions.
The two big influences on him were the GAA and trade unionism. His uncle was in the IRA in the 1920s so that probably had a bearing as well.

"There were no overt republican politics in my house as I was growing up.
"In fact, I remember having a row with my mother when she found a copy of  The United Irishman  beneath my mattress. I had bought the paper at a GAA match in Thurles."
By the time Brian was 21 his political outlook was formed. He was very much on the left wing of politics and has stayed there to this day. By 21 he had read Connolly's works and Mellows' writings.
"To me, republicanism is an ideology which should be firmly fixed socially and economically.
"To me, the enemy was capitalism and the system of exploitation.
"To me, the national question was always a class question.
"Most republicans see it in terms of British troops occupying the North. I see it in those terms as well but I also apply a socialist analysis.
"From 17 I was reading something or other. One of the first books was The Ragged Trousered Philanthropist, The War of the Flea, Small is Beautiful, and I read about the Buddhist approach to economics.
"I was against nationalism and I was critical of republicans in the Movement in the late 1960s/early seventies who limited their politics to nationalism.
"I don't believe there is any form of benign nationalism. And I'm not speaking about people who are proud of their country, nor am I speaking about the positive role national liberation movements play in bringing about social and economic change.
"Looking back on the 1930s and 1940s, I could understand the difficulties that republicans like Peadar O'Donnell, George Gilmore and Frank Ryan had with right-wing people in Óglaigh na hÉireann.  
"Over the years I met a lot of republicans from the '40s. I don't want to be cruel to them because they were good people. They kept the struggle going in difficult times. But they relied too much on the politics of the gun.
"Their vision was a united Ireland, plain and simple. It didn't matter on whose terms as along as it was a united Ireland.
"In the 1960s, the IRA was not an organisation working-class people could identify with.
"They were secretive, in many cases elitist, and, in some cases, family driven. It was almost hereditary to be in the Movement. It was organised around a number of well-known families in Belfast.
"Most republicans did not understand working-class and related politics. They were organised for a different purpose.
"Their focus was on independence and the politics which revolved around this. Class politics did not interest the most of them.
"Republicans, by their nature, were part of a conspiratorial movement.
"Republicans and the IRA made little impact on the plight of working-class people in Belfast.
"Some republicans labelled me a communist because of my trade union involvement. That annoyed me because people did not know what they were talking about. I was primarily interested in class politics and couldn't understand why republicans would approve of non-unionised labour and being associated with people who owned firms that paid less than the union rates.
"My experience in trade union politics was drawn on by the IRA in 1966. I was asked to prepare a document for the Army Convention. I used a document I worked on for trade unionists in England called the Red Arrow Agreement. I gave that to one of the IRA's leaders in Belfast. I don't know what happened to it."
Brian was active in workers' rights campaigns. He trained people in his flat in Turf Lodge in this area.
"I was involved in organising a number of strikes. I got a reputation as a militant trade unionist and was blacklisted by my union, the ETU. I couldn't get work. I had six children. It was a hard time. There was not a lot of money about.
"I got a job in Grundig on the management side of things. I built up a good relationship with the trades unions."
While a foreman at Grundig's, a German firm in Belfast, Brian experienced the hidden system of preferential treatment which was commonplace and which ensured discrimination in favour of Protestants in the workplace.
He supervised an applicant seeking a job as an engineer only to discover the applicant knew nothing about engineering. When Brian refused to employ him the interviewee said to him: "Have you not been told? This is all arranged."
Brian promptly showed him the door only to be approached by one of the other foremen at the factory seeking an explanation for his actions. The applicant was a 'B' Special.
It was this hidden system of discrimination which relied on family connections, home address, and school name that ensured Protestants received preferential treatment.
This, and the more obvious discrimination practised by the sectarian, Six-County state, saw Brian Keenan propelled into becoming active in the Civil Rights Movement and to joining the Irish Republican Army. Things would never be the same again.
• NEXT WEEK: From civil rights to armed struggle
An Phoblacht Magazine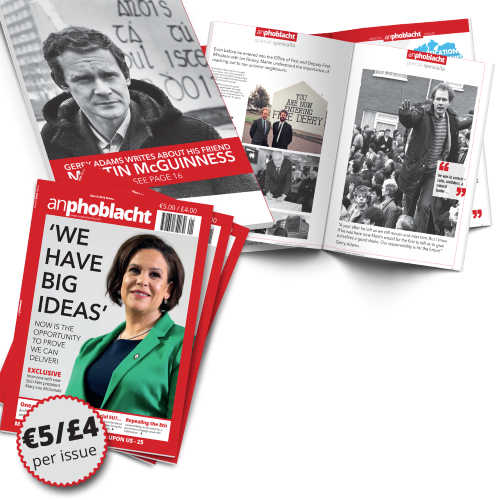 AN PHOBLACHT MAGAZINE:
The first edition of this new magazine will feature a 10 page special on the life and legacy of our leader Martin McGuinness to mark the first anniversary of his untimely passing.
It will include a personal reminiscence by Gerry Adams and contributions from the McGuinness family.
There will also be an exclusive interview with our new Uachtarán Mary Lou McDonald.
test