20 March 2008 Edition
Working towards the All-Ireland Republic
Many thousands of republicans in Ireland and overseas will gather this weekend to commemorate the Proclamation of the Irish Republic and the Easter Rising of 1916. They do so not simply as a celebration of heritage or as an exercise in historical remembrance. They do so because they are determined to complete the task of the men and women of 1916 and finally to establish on this island the Irish Republic encompassing all 32 Counties.
The reunification of Ireland and the sovereignty of the people of Ireland are the core values of Irish republicans. This principle of freedom was first expressed by Wolfe Tone and the United Irishmen in the 1790s. Exactly 150 years ago it found expression in the Irish Republican Brotherhood, inaugurated in Dublin on St. Patrick's Day 1858.  And in 1916 the Fenian Tom Clarke joined with the Gaelic revivalist Pádraig Pearse, the socialist James Connolly and the feminist Constance Markievicz, representative leaders of the strands of Irish revolution which combined to make possible the Proclamation of the Republic.
No-one who reads that Proclamation can, unless thoroughly deluded, believe that it has been fully implemented. The people of Ireland have yet to enjoy the benefit of a sovereign state that includes the whole island. The British Government still claims jurisdiction over six Irish counties. This week the Queen of England visited here as part of her 'United Kingdom'. This is not and never will be acceptable to Irish republicans.
Continued adherence to the Proclamation in no way contradicts the republican peace strategy of the last decade and a half, as some would contend. Commitment to achieve Irish unity is the foundation of everything republicans have done in that period and it remains the central objective. From the republican peace strategy has evolved a new relationship with unionism which is undermining what the Proclamation called "the differences carefully fostered by an alien government which have divided a minority from the majority".
This Easter Sinn Féin announces the stepping up of its campaigning for Irish unity. As republicans gather at the weekend this should be a prime topic of discussion. The strands of revolution that came together in 1916 are still strong and relevant to the Ireland of 2008. It is up to us to make the revolution real and to make the Proclamation more than a document.

An Phoblacht Magazine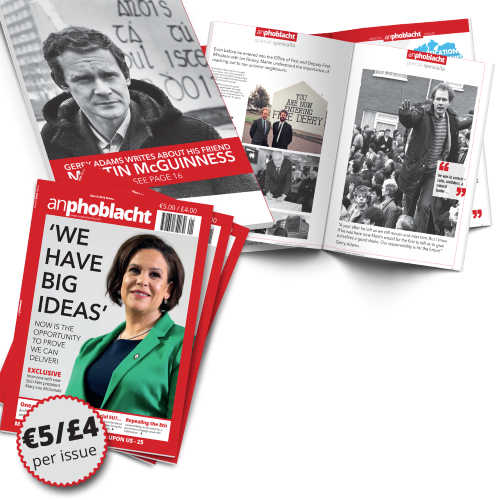 AN PHOBLACHT MAGAZINE:
The first edition of this new magazine will feature a 10 page special on the life and legacy of our leader Martin McGuinness to mark the first anniversary of his untimely passing.
It will include a personal reminiscence by Gerry Adams and contributions from the McGuinness family.
There will also be an exclusive interview with our new Uachtarán Mary Lou McDonald.
test