13 March 2008 Edition
Matt Treacy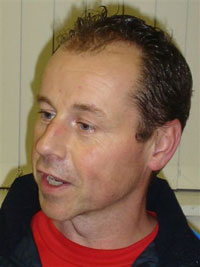 Funny thing, the internet forum
ONE of the great boons which modern technology has brought to the GAA has been the advent of internet discussion forums.
This has allowed the cut and thrust (or "banter", as True Gaels prefer to call it) of the sideline and the pitch to be transferred to cyberspace. And, of course, with the added benefit that you are highly unlikely to end up with a puck in the gob while sitting safely behind your keyboard.
The quality varies greatly but in general there is a high standard of debate and a good deal of knowledge on display. Like all interstitial dialogue, of course, it does attract a fair proportion of anoraky types: chaps whose other interest in life is probably the very first series of Star Trek, or maybe The Riordans, given that we are talking about racy of the soil types.
The anoraks can be spotted quickly as they invariably will ask questions about who played right corner-back in the last team to win successive junior and intermediate championships on Cape Clear in the 1930s. Then there are guys who are 'in the know'. Fellas who Pillar or Brian Cody will consult before deciding team selections and who would probably be managing the team themselves only they couldn't be arsed or they are doing a Phd in Physics.
Well-known players would be well-advised not to log on as some of the criticism can verge on the personal – abusive indeed. So if you miss the open goal that might have won the Ulster final or the 65 that cost your county the All-Ireland, you are as well staying in bed. At least if you are attacked on the street you will have the chance to defend yourself. And, in any event, most people will only belittle you behind your back.
Not online, of course, where you can basically say anything you want while hiding behind some obscure moniker. And so 'Big Nose', 'Nobber' or 'Savage Hurler, The Ragg' can broadcast the most outrageous slurs without fear of discovery or pay-back. Although generally most sites do try and ensure that some of the more lurid stories about famous players and managers don't actually appear.
There are, of course, other reasons to use the forums. It is not unknown, for example, for lesser-known players to advertise their greatness. "What do fellas think of Camillus O'Halloran who plays Junior D with the Gers? Why is he not on the county team? He kicks points for fun."
Or to issue threats prior to games. "This is a message for the lady-boys in Aughnagealt. Youse boys better book some ambulances Sunday cos we're going to burst youse open  – Mick the Chopper, The Town."
Or afterwards, especially when there have been 'incidents'. "Just to let that baldy fecker with the Glanbia umbrella know... Ye don't belt one of our boys coming out of the dressing room and leave him blinded and no comeback. You're dead meat, Kojak."
Another favourite pastime is for people to visit Dublin pages and slag off the Jackeens, especially after Dublin have been beaten either in the final stages of the championship or lost to some under-achieving county in the league.
To slag the Dubs you need several basic ingredients, few of them anything to do with the actual team but that doesn't matter because the real object of the exercise is to rile supporters. So you refer to Dubs arriving late at matches, being drunk, taking cocaine on Hill 16, being English, having beer bellies (and that's only the women), wearing pyjamas to the shop and/or Croke Park, and/or being a sly/dirty/cowardly/effeminate shower of bastards.
Indeed, one rustic scribe even went to the bother of composing a song (sung to the tune of Blur's In the Country). I will give you a brief flavour of what we are talking about prior to filing a complaint with one of the many bodies that deals with the abuse of ethnic minorities:

She lives in a house, a very small house, she's a jackeen/Wears skanky tracksuits, robs stuff from Boots, she's a jackeen.
He doesn't do a thing, he wears a sovereign ring, he's a jackeen/His sister is worse, she keeps spare knickers in her purse, she's a jackeen.

Well, you get the gist of it. Of course, the home of most of the great Irish writers – and the rest of them all came to live here – was not slow to respond:

He lives in a house, a very big house, he's a culchie/Puts cabbage on his bread, has a big mutton head, he's a culchie.
He doesn't notice the smell that we think is hell, he's a culchie/He drinks Beamish stout, and knocks his neighbours out, he's a culchie.

Well, as the man said, it was all great fun until somebody lost an eye.
Although, in fairness, even the slagging here is mostly pretty harmless and actually takes up a far smaller proportion of inter-web exchanges than one might have imagined. Mostly it is fairly intelligent discussion about various matters. And why wouldn't it be given that anyone entrusted with a computer and internet access during the daytime when most people are logged on is probably in some position of responsibility and being well-paid for it?

An Phoblacht Magazine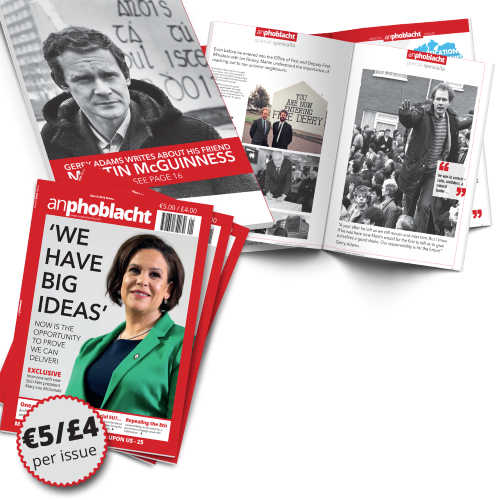 AN PHOBLACHT MAGAZINE:
The first edition of this new magazine will feature a 10 page special on the life and legacy of our leader Martin McGuinness to mark the first anniversary of his untimely passing.
It will include a personal reminiscence by Gerry Adams and contributions from the McGuinness family.
There will also be an exclusive interview with our new Uachtarán Mary Lou McDonald.
test