7 February 2008 Edition
EU Directive will lead to privatisation of postal services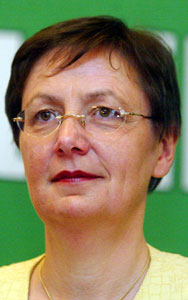 AN EU directive on opening the market in postal services will be detrimental to mail workers, local post offices and the public and will pave the way to privatisation in public services, Sinn Féin MEP Bairbre de Brún warned this week.
Speaking in Brussels, de Brún pointed to the fact that the Royal Mail in the Six Counties already cites the pressure of competition for providing less of a service and poorer working conditions than before.
"This EU Directive will allow private postal companies to swamp the market and will bring the same problems to the delivery of standard letters that we have seen with the deregulation of parcel deliveries," she said.
"People do not want to be presented with an array of competing post offices marketing their products. They want a reliable postal service which will deliver their mail with the minimum of fuss and which will keep local post offices at the centre of the communities they serve.
"There is no demand, no logic and no justification for the liberalisation of postal services."
The Sinn Féin MEP said that, across Ireland, rural and isolated communities are dependent on a postal service delivering letters regardless of profit motives. "The EU Commission's attempt to commercialise the delivery of letters is a dangerous and foolish move for which villages and rural communities across Ireland will pay dearly," she said.