31 January 2008 Edition
Death of Alfie Doherty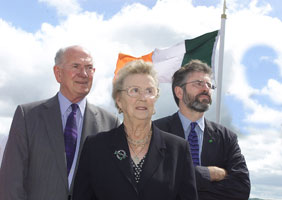 THE DEATH occurred on Tuesday, 29 January of Alfie Doherty, the Belfast republican and father of 1981 Hunger Strike martyr and TD for Cavan/Monaghan, Kieran Doherty.
Speaking in the Long Gallery at Parliament Buildings in Stormont on Tuesday during the launch of the 2008 Calendar for Cumann Spóirt an Phobail, a newly formed community sports group in Belfast's Upper Springfield area, Sinn Féin President Gerry Adams extended on behalf of republicans everywhere his deepest condolences to Alfie's wife Margaret and the family circle.
The Sinn Féin President said:
"I have very fond memories of Alfie. He was a great patriot. An example, I think, to all of us about Irishness, tolerance, magnanimity and humanity. I remember him before the hunger strikes, but particularly the leadership role he and Kieran's mother Margaret played during the prison protest. They campaigned energetically throughout that period, and Margaret and Alfie were a pivotal influence in the election which saw Kieran elected as TD for Cavan/Monaghan.
"I have a very vivid recollection of visiting Kieran in his prison cell of the hospital wing in the H-Blocks. Alfie was there that day and was a tower of strength.
"In his own right he was a great family man and an outstanding member of the community."