10 January 2008 Edition
Matt Treacy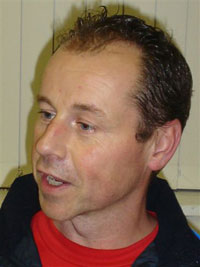 Crowning glory in Arctic Parnell Park
THERE ought to be a special crown for all of those hardy souls who venture out to watch their county play in the early-season competitions: if not eternal life, then certainly a guaranteed ticket for big games later in the year.
Standing or sitting at a match in Arctic conditions in early January conjures up a medley of emotions. You feel that you are suffering and therefore part of the team effort although it may earn you the resentment of children who do not see the merit of frostbitten digits and of already embittered in-laws who believe that going to Parnell Park at night-time is a poor excuse for not staying at home to listen to them talking about their medical problems and who's shagging who in some fictional suburb of Manchester.
On the plus side you have earned the right to feel morally superior towards those who think that the GAA year starts in June and who will not recognise any new players discovered during the winter. You get to meet people you haven't seen since about the previous April before they were swallowed in the deluge of the 'Junistas'. You get to drink with them after the match and predict outrageously great/terrible things for the year ahead based on what you have seen.
There were around 5,000 souls in Parnell Park last Saturday for Dublin's first match in the O'Byrne Cup. Not a bad crowd for the time of the evening and the time of the year despite what one Dubophobic letter writer had to say and whose own county attracted 1,000 for their home match against the provincial champions!
Neither side was at full strength. Wicklow were missing Leighton Glynn, hero of the Tommy Murphy final, and I was sorry to hear that he is likely to be out for a long time due to injury. They did, however, start Thomas Walsh, who has been the subject of some controversy following his transfer from Carlow to Mick O'Dwyer's side.
Dublin were in experimental mood, although not to the same extent as in the last two or three years. Two of the lesser-known panel members, Pat Burke of Kilmacud and Barry Kennedy of Mark's, scored the goals. Eamonn Fennell was enthusiastic at midfield and Philip McMahon had a good game at right-half-back until substituted late on.
Also of note was Paul Flynn of Fingallians who came on as a sub in the last quarter. Stephen O'Shaughnessy, out since a serious shoulder injury in 2005, was back and judging by the manner in which he put himself about is not worrying about a relapse!
One of the potentially interesting selections was of Declan O'Mahoney of Ballyboden at full-forward. There was some speculation, given his size, that he might be deployed as a target man after the pattern of Kieran Donaghy but if that was the plan it never really materialised. Actually delivering that type of ball is not as easy as it looks and a small, tight pitch like Parnell is possibly not the optimum testing ground.
Anyone with doubts about Dublin's resolve will have been heartened by the displays of Jason Sherlock and Shane Ryan. Sherlock proved to be a handful for Paddy Dalton and was the architect of both Dublin goals. Shane was not sporting last year's early-season paunch and seemed to turn up wherever the ball was.
When Alan Brogan was brought on in the second half, Dublin now had, for the first time in my memory for a senior football game – the Holden brothers Mick, Vinnie and PJ having togged out together for the hurlers – three siblings on the same team.
They are uncannily similar in appearance on the ball and between Bernard and Alan the family contributed seven points.
The only critique I have heard of them is that they tend to perhaps hold on to the ball too long. Mind you, it is not a major flaw in scoring forwards and reflects a certain arrogance and the self-belief that they are more likely to score than the person they might pass the ball to.


WHILE Dublin won easily in the end with a margin of nine points, I thought Wicklow were more competitive than last year in Aughrim and with an ostensibly weaker team.
They are still a good bit off the top teams but Micko will not be too worried about that. Their immediate task is to get out of Division Four and prepare for their championship first round against Kildare. They have certainly come on in the past year.
As for Dublin, their sights are set far higher. Like the team of the early '90s, they have established themselves as leading contenders and consistent competitors. The question now is whether they can go that step further and win the All-Ireland.
They are a better team than they were two or three years ago and might still be improving. That is something that can be said of few of the other likely contenders. But last August proved that they still lacked the power to put away a team like Kerry. Kerry, chasing a three-in-a-row and a place among the greats, will be at least as good as they were in 2007 so further improvement is required.
Dublin are not as vulnerable as they once were and there are teams that would have fancied their chances against them even 18 months ago who would not live with them now. That needs to be reinforced on every occasion they meet: in O'Byrne Cup, league or championship.
Such was the way of the great teams of the past. This year will tell whether this team will join them.

An Phoblacht Magazine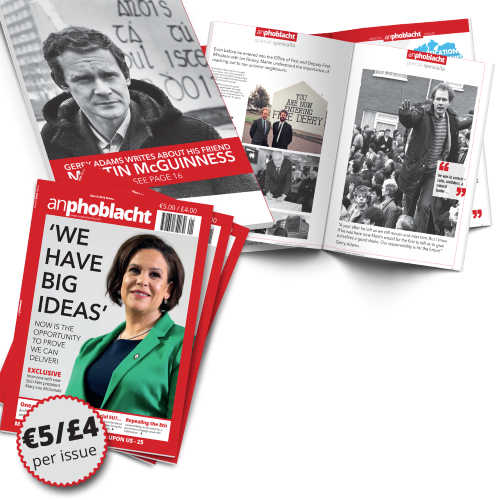 AN PHOBLACHT MAGAZINE:
The first edition of this new magazine will feature a 10 page special on the life and legacy of our leader Martin McGuinness to mark the first anniversary of his untimely passing.
It will include a personal reminiscence by Gerry Adams and contributions from the McGuinness family.
There will also be an exclusive interview with our new Uachtarán Mary Lou McDonald.
test