10 January 2008 Edition
Interview : Oisín Ó Dubhláin, Ógra Shinn Féin Dublin Organiser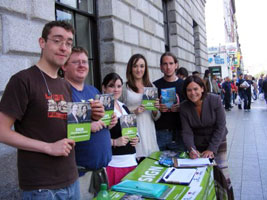 'Be the change you want to see'

OISÍN Ó DUBHLÁIN is Ógra Shinn Féin's Dublin Organiser. Here he talks to PEADAR de BLUIT about student politics, the influences that led him towards active republicanism, the state of Ógra Shinn Féin in Dublin and the role of the republican youth movement today.

Tell us a little about yourself, Oisín.
I'm originally from Cavan but I've lived in Dublin now for three years. At the moment I am studying Psychiatric Nursing at Dublin City University. I am currently chair of Dublin Ógra and I was also national college co-ordinator until recently. In addition to being a nursing student, I am a member of the Psychiatric Nursing Association trade union.

How did you find the political landscape in DCU when you got involved initially?
I found DCU at that time to be very apolitical. The students' union there was weak and didn't engage with the student body on student issues in any meaningful way. Even in the context of political life on the campus I don't think that the vast majority of those who did sign up for different political societies had a genuine interest in activism.  Things do seem to be looking up though.
Recently, an independent left-wing group has come together in the university. It's made up of the different political societies and also other smaller groups. As of yet it has not undertaken any major actions but we hope to become much more active in the coming months.

You say that the campus was not overtly politicised – but you were?
Yes. I would always have had an interest in Irish history growing up. I was brought up to have respect for those who fought and died in 1916, during the Tan War and right up to the most recent phase of the struggle. I grew up having respect for the IRA and the Republican Movement.
Also, being from Cavan, the work being done by Sinn Féin in that constituency, especially in local communities, encouraged me to join Ógra and Sinn Féin. I was raised with a very clear awareness of the inequalities that exist in society and the reasons behind them, i.e. the capitalist system. From that I would have become more committed to the need for class struggle and grassroots community activism.

So how did you get involved in Ógra?
I joined Ógra during the freshers campaign in DCU. During the first two weeks I found it a bit slow to get going as there was minimal activity on campus. After that, however, I became involved in Ógra in Dublin and very quickly I became much more involved in campaigning, protests and the different Ógra actions taking place in the city. I was not immediately involved with Sinn Féin. In fact, I only became properly involved with the party structures in the city after the following year's AGM.

How active were Ógra in Dublin?
There had been quite a good level of activity in Dublin Ógra. However, a number of core activists in Dublin Ógra moved into full-time roles in the senior party, including the new chair of Ógra in Dublin going into a key position in an important constituency.  Unfortunately this caused a stagnation of activism in Dublin at that time and the remaining activists became disinterested owing to the lack of focused activity in the city and gradually began to drift away from the organisation.

Did the election campaign not provide enough activity to keep those activists on board?
No. There was not enough Ógra activity going on to keep people organised along Ógra lines although a number did good work in their own constituencies. By the summer I became chair of Dublin Ógra and began to deal with the problems that had arisen in Dublin.
I began by reorganising the Ógra structures in the city, paying special attention to improving communications in Ógra in order to develop the level of activity and organisation. In co-operation with the senior cúige, plans were developed to rebuild Ógra, giving more forethought to Ógra activity in place of the reactive protesting that had been there up to that point.

What role does Ógra Shinn Féin play within the Movement?
Our primary role would be to provide a strong radical voice for the youth within the party and Irish society as a whole. Our second function as I see it is to educate and radicalise the young people who join Ógra and Sinn Féin.

And how do you think that is going?
Ógra are, without a doubt, punching above our weight and getting a lot done right across the country. We are definitely the most visible youth wing in the country.
Our purpose is to radicalise young people and make a difference on youth issues. It is imperative we work towards radicalising our communities in fighting for their needs.

What role can Sinn Féin and Ógra play in this task?
Firstly, we need to focus on the achievement of reunification to contribute to the development of a normal society and work towards a more social set-up in place of the status quo.
In Ógra we must act as a force for maintaining a radical outlook. Ógra must stand up against any move to the Right or adoption of constitutional nationalism. As we draw ever closer to reunification it is young people who have the best opportunity yet to work for social change and the ultimate development of the socialist republic.

What would you say to young people considering getting involved in politics?
There has never been a more important time to be involved in the Republican Movement. Sinn Féin is the only vehicle which is going to continue to push for a 32-county democratic socialist republic in a meaningful way.
If there are young people out there to whom the injustice of the continued partition of Ireland and the inequalities and corruption of the current system is repugnant, now is the time to get involved.
I would say to young people who have a genuine interest in these things to get thinking and talking amongst each other. If you are dedicated to the ideals of 1916 it is essential that you put that dedication into action. You get nowhere by standing still and criticising – get in there and be the change you want to see. Bí linn sa streachailt. Bí linn in Ógra Shinn Féin.

An Phoblacht Magazine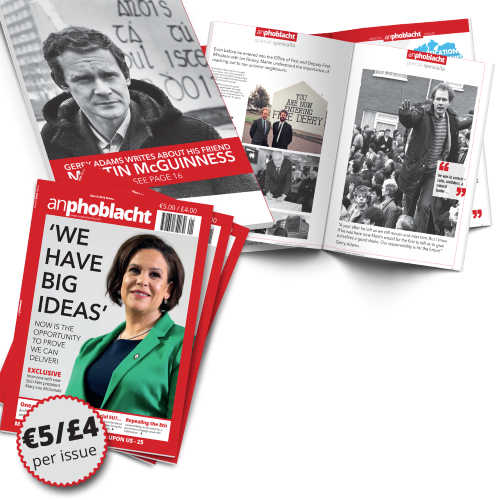 AN PHOBLACHT MAGAZINE:
The first edition of this new magazine will feature a 10 page special on the life and legacy of our leader Martin McGuinness to mark the first anniversary of his untimely passing.
It will include a personal reminiscence by Gerry Adams and contributions from the McGuinness family.
There will also be an exclusive interview with our new Uachtarán Mary Lou McDonald.
test