29 November 2007 Edition
5th Column
Billy, don't be a hero
THE brain cells have been burning like billy-o under the bowler hats at Orange Order HQ but they think they've finally come up with a way to make their organisation more attractive to children – a comic-book super-hero.
The character drawn to order by some slick PR firm might be a bit too camp for some of the lodge's more temperate members, though, what with his tight orange body suit with the traditional loyalist purple star, a purple cape and a huge orange quiff that Quentin Crisp would have died for.
Orangeman David Hume said it's the Order's attempt to make it look "less stuffy".
Now that there's an Orange hero with fewer frills and curls than King Billy,
Brother Hume is holding a competition asking the (Protestant) boys and girls to come up with a name.
The best I've heard so far is 'Sash Gordon'. Any others?


Freedom to hate
DUP Lagan Valley MP Jeffrey Donaldson wants the law making religious hatred taken off the statute books because it could "curtail religious freedom".
Why would anyone see inciting religious hatred as being synonymous with religious freedom?
Jeffrey is a former member of the Ulster Defence Regiment and is a current member of the Orange Order.


In-ger-land
WHEN it comes to England's sporting efforts, many people (and not just Irish republicans) are known to enjoy the odd spot of what our resident intellectual, Matt Treacy, says is called schadenfreude ("malicious joy in the misfortune of others"). So no doubt there's a liberal sprinkling of schadenfreude the length and breadth of Scotland, Wales and Ireland over Inger-land's woes in two world cups (rugby and soccer) and on the motor racing track (even though Lewis Hamilton seems like a nice bloke). England spluttered out of soccer's Euro 2008 championships as last week's An Phoblacht went to press, so that's why I'm revisiting this tragic event now.
I've always maintained a two-pronged approach to matters English (notice how Fleet Street describes winners as English and not British?): love the English people; loathe the English jingoism that goes with their sports.
The post-mortem on England v Croatia even had the Irish Daily Mail carry the banner headline quote over a piece by Piers Morgan: "I admit it! We English ARE arrogant and hopeless at sport."
If it's in the Daily Mail it must be true, mustn't it? (Some mistake, surely – Editor.)


Myers aims at 'Irish Lenin'
KEVIN MYERS is getting his Union Jack jocks in a twist again, this time over the new biopic about James Connolly being filmed in Poland.
In his Irish Independent column last Friday, Myers describes Connolly pre-1916 as "a war-mongering totalitarian-in-waiting, an Irish Lenin".
He has heard of the movie, Myers says, "with the sinking heart of a schoolboy who sees his drunken mother flirting with a Cardinal-Archbishop".
It's an allusion which says more about Myers's predilections than an FBI profiler could ever do.


Cannibal's bloodless coup
JOHN GORMLEY'S sister party in Germany is gritting its teeth over the world's most notorious real-life cannibal being voted leader of a Green Party support group.
Armin Meiwes chopped up a man he met in an internet chat-room in Berlin, popped him in the freezer and then took him out when he felt a bit peckish and ate him. Now serving life in the maximum-security prison in Kassel, Meiwes (45) claims to have gone vegetarian and has been voted in as leader by the other homicidal maniacs, paedophiles and drug pushers in the jail's Green group.
The group meets every Tuesday and Gerhard Kaehler, an official Green Party representative working with the cons, is delighted with the Greens' new big cheese.
Gerhard's bosses at the German Green Party HQ, though, are finding their infamous new-found friend a bit too much to swallow: "Mr Meiwes never was and is not a member of the party." So guess who's not coming to dinner.
But 'Hannibal' Meiwes's mentor, the Green Party's Gerhard Kaehler, claims that results of the Green jailbirds' Tuesday chats sometimes find their way into party work and that this has resulted in questions being raised by the Green Party in the regional parliament. No wonder John Gormely's chums want to keep Mr Meiwes at arm's length – he might eat up his Greens.

An Phoblacht Magazine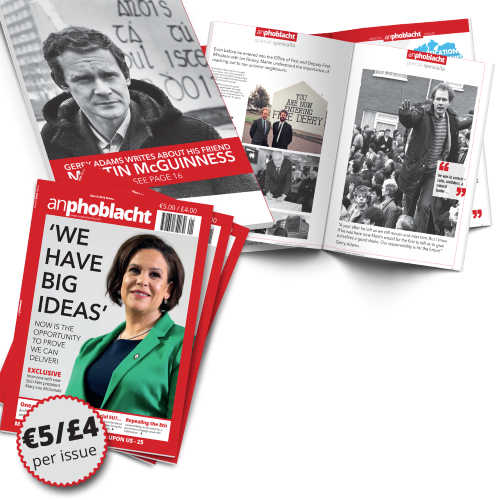 AN PHOBLACHT MAGAZINE:
The first edition of this new magazine will feature a 10 page special on the life and legacy of our leader Martin McGuinness to mark the first anniversary of his untimely passing.
It will include a personal reminiscence by Gerry Adams and contributions from the McGuinness family.
There will also be an exclusive interview with our new Uachtarán Mary Lou McDonald.
test