29 November 2007 Edition
Allegations of violence against Antrim workers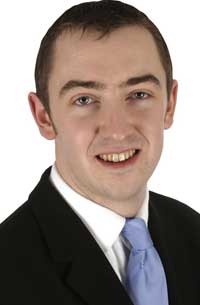 North Antrim Sinn Féin MLA Daithí McKay voiced his concern this week after it was reported that firearms were brandished at a Reid Transport plant in Loughgiel, County Antrim. McKay was speaking after two incidents took place at the company's yard where Reid workers said they were threatened.
McKay said that on Monday night when former Reids workers blocked the entrance to the Reids Transport plant in Loughgiel a lorry driver, who was involved in removing assets, got out of his vehicle and threatened the workers with a hammer. According to workers the lorry driver then drove out of the yard and hit one of the workers' cars as he drove off. This is now being investigated by police.
Daithí Mckay went on to say:
"It is now alleged that one of the protesting workers had a gun pointed at him last night on the same property. This needs to be investigated and clearly the administrators who are responsible for this yard have questions which need to be answered" McKay said.