20 September 2007 Edition
Fifth Column
Up the RAR!
FAIR PLAY to Republicans Against Racism who lined out in the 11th annual Sport Against Racism Ireland (SARI) 'Soccerfest' in the Garda Athletics Grounds in Dublin's Phoenix Park last weekend.
Some 400 players and thousands of supporters took part in the 7-a-side friendly competition over two days of fun, food and footie.
Justice was done when top fashion designer John Rocha's side, Insaka (dubbed 'The African All-Stars' by the now sorely missed former Ireland manager, Brian Kerr), beat the Garda National Immigration Bureau 2-1 in the SARI Cup Final.
We actually have a photo of Republicans Against Racism but they make Grimsby Town look attractive so we decided to withhold the snap and file it for blackmail purposes because they could obviously benefit from John Rocha's management style – or maybe even just his style.


The Devil's Own Fifth Column
If the Free Presbyterian readers of the fire and brimstone Protestant Gazette had their way, yours truly would be burned at the stake or taken to the witch's ducking stool at the local village pond.
The Pee Gee disliked a Fifth Column piece on its attack on the Protestant archbishop of Dublin for voicing fears about another Love Ulster parade through the capital so much that it reprinted the whole thing.
Archbishop John Neill's sin was to opine that, given the evidence of what occurred last time, a re-run of the event might cause a re-run of the riots.
The Pee Gees didn't like that. They also didn't like the fact that we suggested it was a little un-Christian to call their brother in faith an "ecclesiastical charlatan". And, just in case the An Phoblacht van missed the John Knox Memorial Church on its run up the Shankill, the font of knowledge at the Gazette, Reverend Ian Hall, made sure his flock had something to bleat about.
One of his disciples, 'Sammy', said:
"Well done, Rev Hall. You must be so pleased to have merited an attack from the official voice of Provo scum."
And 'FPC' damned Archbishop Neill but was he having a go at us as well when he said:
"Anyone involved in ecumenical treachery is a Fifth Column agent of the devil."


Clerical error
Last month saw the start of a series of events to mark the 30th anniversary of London's 'The Battle of Lewisham'. This was one of the finest moments in post-war anti-fascist history and one of yours truly's formative experiences when a provocative National Front march through south-east London met some robust political discourse with the aid of the famous Doc Martens of various Irish groups and other immigrant communities.
Happening upon the commemorative website, Lewisham '77, I took a trip down Memory Lane (or New Cross Road) and played the grainy YouTube footage of the day's events, the first time police used riot shields (against anti-fascists, of course) in Britain.
The background music is the Sex Pistols' Anarchy in the UK. Although I'm not sure that one of the central figures in the mass mobilisation against the NF will appreciate being in scenes set against the Pistols' opening lyrics "I am an anti-christ..." when he's the Bishop of Southwark.


Duelling banjos
Manchester United's Shankill Road star of the 1980s, Norman Whiteside, tells in his just-published autobiography how team mates Paul McGrath and Kevin Moran took him to a Wolfe Tones gig in Manchester.
Whiteside is proud to be from the Shankill but he says not of the assumptions some people make of him because of that (he married a Catholic, by the way).
Anyway, Whiteside survived the Wolfe Tones with just bruised feelings after Kevin Moran stepped in to stop the name-calling. Mind you, Norman might have been more worried if the boys in the band had been armed with musical instruments made by Colombian craftsman Luis Alberto Paredes  – electric guitars made from AK47 assault rifles.
Luis and his family turn decommissioned weapons from the armed struggle into stringed instruments. Now I know what to buy Bik McFarlane for Christmas.


Bunking off
The governor of Ulyanovsk province in central Russia will have done his local election chances no harm at all with his latest active citizenship initiative last week. He urged couples to skip work on Wednesday and make love to boost the country's low birth rate.
And if a lucky couple gives birth exactly nine months from the very day that they've been asked to lie back and think of Russia – on Russia's national day, 12 June 2008 – then they'll also qualify for a prize, a TV set, a fridge, a microwave or maybe even a new home.
Now why didn't the Catholic Church think of that?


SAS confidential
Someone has captured the lap-top of the Brits' pulp fiction SAS hero, Andy McNab.
McNab, author of Bravo Two Zero and many other boys' own books, had his PC pinched from his Audi Q7 when he popped into a newsagent's in west London for a copy of The Sun. Not very security conscious for a highly-trained SAS trooper skilled in the arts of evasion and camouflage, was it?
Later, McNab wrote a long, whiney open letter to the thief, telling him how he shouldn't be robbing from best-selling authors' cars and should instead join the British Army (where you can rob people while doing house searches – you can even shoot them too and not worry about the law).
The Sun has made an appeal to the thief. "Did you steal Andy's lap-top?" the Sun asks. "If you want to drop it off – no questions asked – ring our confidential hotline."
An Phoblacht would like to emulate The Sun's public-spiritedness by echoing its appeal to anyone who has lap-tops belonging to Andy McNab or any other plank of the British Establishment to give us a call.
As The Sun says: "No questions asked."

An Phoblacht Magazine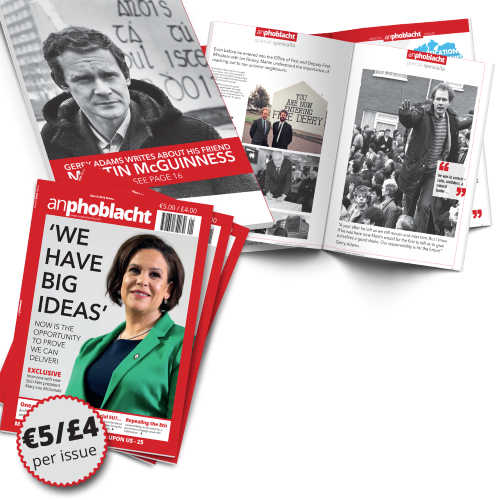 AN PHOBLACHT MAGAZINE:
The first edition of this new magazine will feature a 10 page special on the life and legacy of our leader Martin McGuinness to mark the first anniversary of his untimely passing.
It will include a personal reminiscence by Gerry Adams and contributions from the McGuinness family.
There will also be an exclusive interview with our new Uachtarán Mary Lou McDonald.
test