20 September 2007 Edition
Community solidarity with family of Harry Holland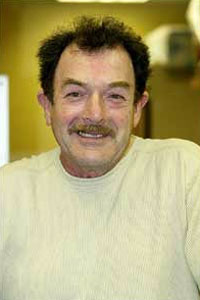 THE MURDER of West Belfast man Harry Holland has stunned the local community. Harry was fatally wounded when he was stabbed in the head with a screwdriver while confronting car thieves as they tried to steal his greengrocer's delivery van late on Tuesday, 11 September. He died in hospital the following day.
Reacting to the killing, up to a thousand people attended a solidarity vigil held on the site of the Andersonstown former PSNI barracks on Thursday, 13 September. Harry's wife, Pauline, and his four daughters – Sarah, Grainne, Meabh and Gael – as well as other members of the wider Holland family circle attended the vigil, which was addressed by Sinn Féin President Gerry Adams. Before Adams spoke, Harry's daughter Sarah addressed the crowd and thanked them for their support.
Adams began his speech by extending his and the community's "deepest and heartfelt condolences and sympathies" to the Holland family. The Sinn Féin president spoke of Harry's support for a range of local causes as well as his support for the Irish language.
"Harry was a radical and an internationalist," Adams said.
"He was very progressive in his ideas of how our community should deal with anti-social behaviour. That includes the need for parents to face up to their responsibilities."
Adams also challenged the PSNI and the criminal justice agencies to take on their responsibility and tackle the "thugs" involved in the anti-social and criminal behaviour occurring in West Belfast.
The Sinn Féin MP for the area, however, went on to criticise those who would portray West Belfast as lawless and out of control.
"West Belfast is not out of control. It is not a lawless community."
Concluding, Adams accepted that events such as the killing of Harry Holland heightened fear among sections of the community, particularly the vulnerable.
"Now is the time to reassure our neighbours. This community was not cowed by decades of military repression. We will not be put down or dictated to by the thugs who murdered Harry. We are ready to stand against them but for now we stand with the family of Harry Holland."