30 August 2007 Edition
New policing approach needed to tackle modern crime problem
By West European or US standards Ireland has a modest crime rate. However the statistics themselves do not tell the whole story. In recent years Ireland has undergone huge social and economic change. Much of this has been for the better and is to be wholeheartedly welcomed. However such rapid social change has brought challenges and problems that Irish society must confront if we are to build a positive future for our country.
Rapid industrialisation and urbanisation coupled with an inept or corrupt political system that failed to plan adequately for social change, has led to problems of major anti-social behaviour in urban areas. This problem has caused misery for thousands of people, particularly in working-class areas and many residents feel that the response of the statutory authorities has been one of abject failure and neglect. Cosmetic and knee-jerk responses such as ASBOs have not provided a solution. Only real community empowerment and the involvement by the police with the community they serve will begin to address this issue.
On another level there has been a change in the nature and pattern of crime in Ireland. The ready availability and all-too-frequent and lethal use of guns by criminals, is linked directly to an explosion in the drugs trade in this country.
Some of the criminal elements responsible for the growth in shootings and murders commonly referred to, as 'gangland' are highly organised and run wealthy criminal empires. Others are not. Such is the availability of lethal automatic weaponry and the money to be made from drug-dealing, that many young men from disadvantaged backgrounds, often themselves completely out of their minds on cocaine and other drugs, are now regularly carrying out shootings and murders. Some elements of the media have directly contributed to the problem by glamourising criminal figures or by promoting an idea that 'it doesn't matter as long as they are killing each other'. And either through gullibility, laziness or political bias some leading 'crime journalists' have operated to an agenda dictated by certain elements within the Gardaí and the political system who have their own motives for manipulating crime stories.
Many people believe that drug and gun crime, aswell as the lower level but more commonly experienced problem of anti-social behaviour, is now eating away at the fabric of Irish society. The response has to be varied and involve all levels of society and all statutory agencies. It is not a policing issue alone. But a new approach to policing is part of the answer.
In its submission this week to the Garda Policing Plan 2008, Sinn Féin has made a range of progressive and far reaching proposals to tackle the challenges that now face policing in Ireland.
All future policing plans should work towards the establishment of an all-Ireland policing service.  In the interim policing services North and South must work to attract widespread support from the wider community. The Policing Plan 2008 must reflect the priorities of communities across Ireland. The Gardaí must listen to and work with communities in real partnerships.
A new policing approach is needed to tackle the modern crime problems of a changed Ireland.
An Phoblacht Magazine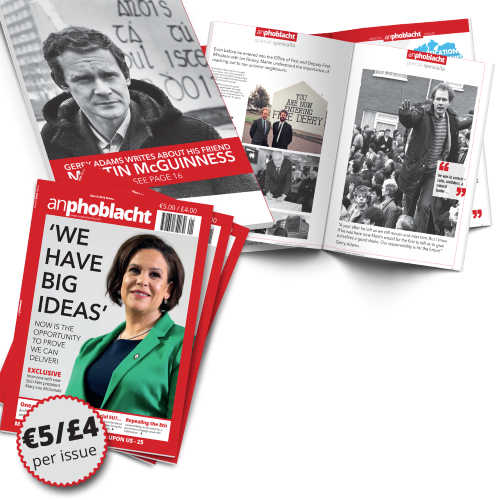 AN PHOBLACHT MAGAZINE:
The first edition of this new magazine will feature a 10 page special on the life and legacy of our leader Martin McGuinness to mark the first anniversary of his untimely passing.
It will include a personal reminiscence by Gerry Adams and contributions from the McGuinness family.
There will also be an exclusive interview with our new Uachtarán Mary Lou McDonald.
test