12 July 2007 Edition
Unionist paramilitaries behind Coleraine attack - Billy Leonard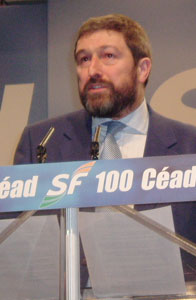 Sinn Féin's Billy Leonard has said that UVF members were behind a beating of a 20-year-old man in the Harpur's Hill area of Coleraine on Sunday night. Leonard has alleged that five masked men entered a home, instructed the victim's mother to lie down while they beat her son with hammers.
Leonard said:
"Obviously loyalist paramilitaries are still operating in Coleraine with impunity. For whatever reason they have obviously entered this person's home to do their dirty work. Local people are in no doubt that UVF members were involved.
We have that organisation and the UDA marching around Coleraine and amongst other things intimidating people away from homes in the town before they actually move in yet we are told that loyalism is considering its future.
We are so far into a process of change that it seems incredulous that Coleraine once again shows itself to be far behind the rest. This community needs to change and the loyalists who were responsible for this attack should have no part of the future."