21 June 2007 Edition
Spanish edition of Women's Stories from the North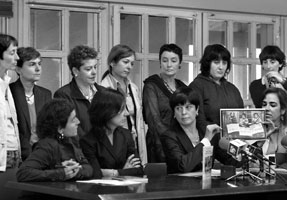 Italian journalist Silvia Calamati launched the Spanish language edition of her book 'Women's Stories from the North' at a packed press conference, attended by most Basque media outlets, in the Basque city of Bilbao on Monday 4 June.
Calamati was invited by the Basque women's group AHOTSAK, "Women's Voices for Peace".
AHOTSAK was formed in 2006 by women MPs from various political backgrounds to give their contribution to the Basque peace process. And in their April 2006 mission statement they said: "We believe that, as women, we can become active agents for peace. Starting from what unites us and what separates us, we have to explore new ways in the search for peace and reconciliation. In this way we can participate in the new process of hope that must start in our country".
The book launching took place in the offices of the Basque City Council. Elizabete Piñol, a woman solicitor from AHOTSAK, read out three stories from the book.
Addressing the media Calamati outlined the experiences of Emma Groves, Rosemary Nelson, Geraldine Finucane and the many other women from the Six Counties whose experiences of the conflict in the North she recounts in her book. The author described how women in the Six Counties coped with violence and State repression during the conflict.
An Phoblacht Magazine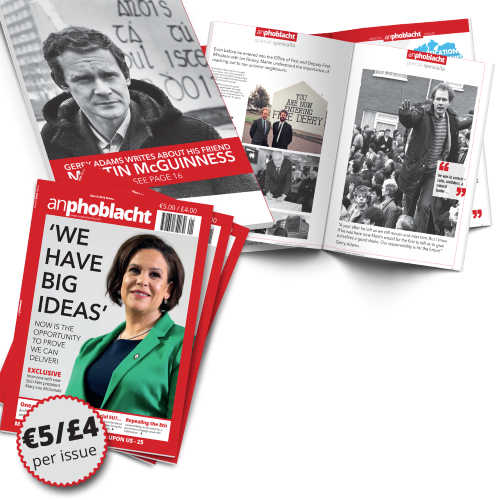 AN PHOBLACHT MAGAZINE:
The first edition of this new magazine will feature a 10 page special on the life and legacy of our leader Martin McGuinness to mark the first anniversary of his untimely passing.
It will include a personal reminiscence by Gerry Adams and contributions from the McGuinness family.
There will also be an exclusive interview with our new Uachtarán Mary Lou McDonald.
test