21 June 2007 Edition
OPINION : FF would go into government with the devil but not Sinn Féin
Election failure not one of substance, but of presentation











By
Vincent Wood

Although Health was continually presented as the issue of most concern to people, the 26 County general election was ultimately fought on the economy.  Many people clearly feel that 'change' could have impacted negatively on jobs and income.  All of this in spite of Fine Gael and Labour offering essentially the same policy platform as the outgoing government.  The Presidential nature of the campaign and the leaders debate had a significant impact in polarising support around the two potential Taoisigh.  The Fine Gael vote came out and the Fianna Fáil vote (plus previous PD and Independent voters) came out to stop Fine Gael and Labour.
The 'fear factor' was played on two levels.  One was a general ploy not to change the existing government in favour of an untested alternative.  The other was directed at the Left in general and Sinn Féin in particular.  Both Fianna Fáil and Fine Gael played that one. They continued to assert that we were not an acceptable or capable government partner and they meant it.  These parties want us out of the way.  It is telling that a party such as Fianna Fáil, who we would all have historically assessed to be prepared to go into government with the devil himself rather than be out of power, deliberately boxed themselves in to keeping us out. They would go in with the devil all right, but not Sinn Féin.  We pose too much a long-term threat to them.
The Peace Process and the re-establishment of the Six County Executive played well for Bertie and Fianna Fáil. We certainly gained goodwill on the canvass, but it has to be said that with the possible exception of the border counties, Irish unity played little or no part in the minds of the 26 county electorate.  The goodwill is understandable, but we have a job of work to do to address the lack of interest, or understanding the merits of, our all-Ireland project. 
It would be wrong to interpret this election as a shift to the Right or a rejection of the Left.  The Left is splintered, unassertive and almost apologetic. The Labour party's attempts to reposition itself for government have backfired, not because they are perceived as too left, but because they are neither one thing or another. Our oft stated position that cutting taxes and provision of quality public services being incompatible, probably hurt Labour more than any other of our intended targets. The Left were not defeated in this election, but we clearly failed in persuading the electorate that Left or socialist politics are the remedy for the lack of equality that is evident in this society.  People clamour for quality public services, particularly in Health, yet the obvious answer in terms of state-led provision was effectively brushed aside, due to the failure to be heard above the din of fiscal rectitude and who is up for the management of this type of economy.  We appeared to accept that we had to play by those rules – at least that is how commentators and political opponents were able to portray our campaign after our readjustment of policy mid-election.  The Labour Party have already accepted that paradigm and they are looking increasingly irrelevant into the future.  That party's detachment from its base and move rightwards has been in train for years, but is worth examining.
Fianna Fáil is a catchall party sweeping up a large swathe of voters from across the socio-economic platform.  Together with Fine Gael, and latterly Labour, they have the 'middle ground' in 26 politics well covered.  It's a crowded field to be playing on at this time and one in which we will be lost in.  It would only make matters worse by trying to chase public opinion or make ourselves more 'acceptable.'  Again, it has to be said, our failure was not one of substance, but of presentation.  We appeared to lack conviction.  We never did that with the Peace Process and our growth to date reflected this.
If we are not about putting out a radical, but common Sense, people-centered programme that we all agree to stand over and argue through with the same tenacity as we have done with the Peace Process, then we run the risk of being increasingly seen as irrelevant and this would have potentially disastrous consequences to our project throughout the Island. 
In the discussions currently underway throughout the Sinn Féin organisation the following proposals should be considered:

That political discussions throughout the structures be workshop-based and should aim to inform the drawing up a  series of strategic objectives in the time ahead
That we acknowledge the need to prioritise active  engagement with local communities on an ongoing basis and that the party  regional and national leadership drive this.
That we need to ensure that we have elected reps or  work towards representation in each local authority ward or area.  We have to accept the correlation  between the number of local elected representatives we have and the vote we  get.
That we set out our vision for the future; discuss and  develop a policy platform to achieve this vision; and construct and rehearse  the arguments to ensure their coherent and consistent  presentation.
That we highlight more effectively the progressive  elements emanating from the GFA and All-Ireland Agenda – The Consultative  Civic Forum and Human Rights Charter.  
That we illustrate in the 26 counties the way in which  we are engaging with and encouraging participatory democracy in the 6  counties.  We need to extol the  progressive possibilities that exist here.
That what we need to be about is shaping the political  paradigm.  We have a record of  shifting public and political opinion, but we have to recognise that there are  no quick fixes or short cuts in doing this.


• Vincent Wood is Chairperson of Sinn Féin's Cúige Chonnacht.

An Phoblacht Magazine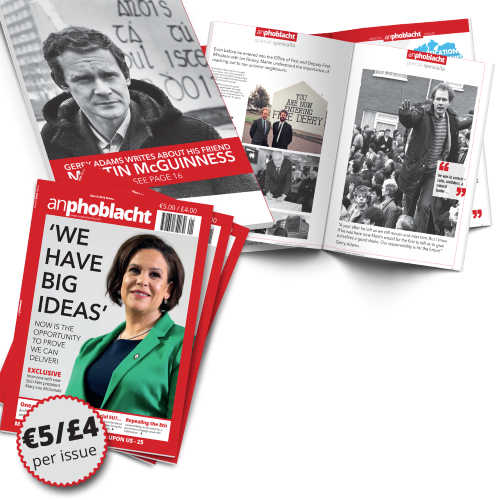 AN PHOBLACHT MAGAZINE:
The first edition of this new magazine will feature a 10 page special on the life and legacy of our leader Martin McGuinness to mark the first anniversary of his untimely passing.
It will include a personal reminiscence by Gerry Adams and contributions from the McGuinness family.
There will also be an exclusive interview with our new Uachtarán Mary Lou McDonald.
test