21 June 2007 Edition
See you in Bodenstown
Next Sunday, as they do every year
in June, republicans from all over Ireland, will gather in Bodenstown Churchyard in County Kildare to remember, at his burial place, the father of Irish republicanism, Theobald Wolfe Tone.
Tone and the United Irish Society remain guiding examples for modern day Irish republicans. The task outlined by Tone – to build a united, independent country based on the principles of justice, equality and non-sectarianism remains to be fulfilled. It is the task to which republicans are still committed and towards which we bend all of our political efforts.
This year the Bodenstown commemoration will also remember in particular those republican activists of the 1950s. This year marks the 50th anniversary of the beginning of the IRA Border Campaign of 1956-'62. That campaign did not achieve its military objective of forcing a British withdrawal from the Six Counties. However it did draw the attention of the Irish people and the world to the injustice of partition and the existence of a sectarian state in the North. It also highlighted the failure of successive Irish Governments to live up to their anti-partition rhetoric.
The 1950s campaign occurred in an Ireland stunted by social conservatism, economic stagnation and gross inequality, leading to massive unemployment and emigration. The IRA campaign of that era demonstrated that there were still young Irish men and women willing to risk their all to achieve a truly free nation.
Veterans of the 1950s campaign will attend next Sunday's Bodenstown commemoration. Republicans of this era owe them a debt of gratitude and will pay tribute to their efforts and their sacrifices next Sunday.
This past year has been a very important one for the Irish republican struggle. We have witnessed groundbreaking political developments, which provide both challenges and opportunities for Irish republicans. Sinn Féin has taken a far reaching decision in relation to engagement with policing structures in the North, has entered a power sharing Executive with unionists in the North as part of all-Ireland structures of the Good Friday Agreement, and has fought election campaigns on both sides of the border.
Bodenstown Sunday is a time for republicans to reflect, assess and take stock of our struggle. It is a time to rededicate ourselves to our republican ideals and to ready ourselves for the struggle ahead. For all of these reasons we hope to see the biggest possible turnout of republicans from throughout the four corners of Ireland at Bodenstown next Sunday.

An Phoblacht Magazine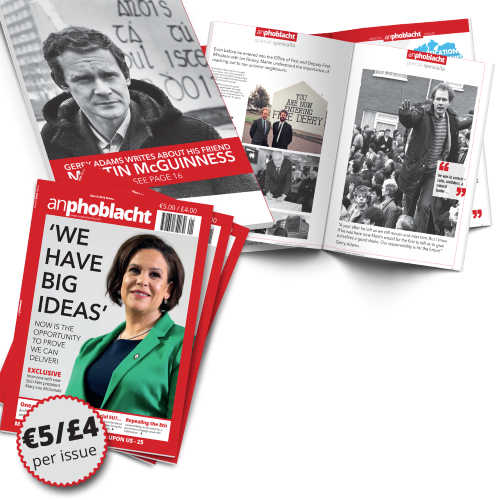 AN PHOBLACHT MAGAZINE:
The first edition of this new magazine will feature a 10 page special on the life and legacy of our leader Martin McGuinness to mark the first anniversary of his untimely passing.
It will include a personal reminiscence by Gerry Adams and contributions from the McGuinness family.
There will also be an exclusive interview with our new Uachtarán Mary Lou McDonald.
test