17 May 2007 Edition
Fógraí bháis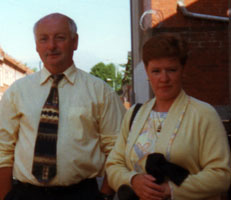 Cathal Quinn — 'A legend within the republican clann'
The sudden death, at the age of 56, on Saturday 10 March of Cathal Quinn has had a profound effect on his family, on his many friends, on the proud community of Dromore in Co Tyrone and on Irish republicans in many different parts of Ireland. Cathal was sort of King of the Clann of Dromore.
Cathal is survived by his wife Ann, currently a Sinn Féin member of Omagh District Council, their son Declan and daughters Shelly, Zenia and Brenda. Ann and Cathal were a great couple who were totally suited to each other. Cathal is also survived by his mother, brother and sisters.
The republican family in Dromore, County Tyrone was always busiest and at its most effective when Cathal Quinn was at the helm. A man of strong political beliefs, Cathal Quinn 'kept the thing together'.
His funeral on Tuesday, 13 March was a major occasion and saw local sporting and community organisations line up alongside his republican comrades, each forming individual guards of honour.

Loyal
What kind of a man was Cathal Quinn?  Cathal was loyal.  He was generous.  He loved beating the system and he did not like fuss or ceremony.  Nothing was ever a big deal. 
Cathal was loyal to the last – loyal to his family and to the cause of Irish republicanism.  The word 'loyal' keeps coming up. Cathal would employ people on building sites, for example, in Dublin and if he liked their work and their friendship, he did not quibble over 'the price'.  It helped if you were 'on the run'.  Cathal would be more inclined to employ you if he thought you were involved.
His generosity knew no bounds.  Through his work, Cathal became financially secure.  In a pub, Cathal would not let you put your hand in your pocket.  People talk about his generous wedding presents "when money was money".  Sometimes Ann held the purse strings.  "Pay for that drink, Ann".  When Declan and the girls went to college, Cathal 'lifted and laid' them, transporting furniture and belongings in any available work van.  If there was a scratch on the family car, Cathal would say "what the hell odds".

Quiet authority
Cathal loved to beat the system. At his wake and funeral, everyone compared notes.  Cathal was at his happiest when the Republican Movement was going well and he was very pleased at the outcome of the recent Assembly elections in the North. 
He had a particular interest in the plight of political prisoners. In recent times, he showed great loyalty to men such as Angelo Fusco, Niall Connolly and Pearse McCauley. 
If there was a delicate issue to be discussed by the Patsy Kelly Sinn Féin Cumann, Cathal's word carried weight as it did in many other meetings.  And this despite the fact that Cathal was a man of few words.   He was a man of quiet authority.
Cathal served as a Sinn Féin Councillor himself for two separate terms; 1985-1989 and 1997-2000.  Cathal was not your 'typical politician.'  For a start, he was a dedicated IRA Volunteer. Many were those who were proud to carry or walk behind his coffin but Cathal might have been embarrassed himself.

Friends
Cathal's friends included Brendan Starrs who pre-deceased him.  Ann joked that there were three in the marriage and Cathal would have travelled anywhere in Ireland to see a good gaelic football match, liking nothing better than to watch Tyrone playing at either Clones or Croke Park.   Pat Fahy and Jimmy Mallon were among Cathal's legion of friends and it is said in Dromore that Paddy Montague could act him out perfectly.  "Alright, Horse".  Cathal was very close to Kevin McGrade who served on Omagh District Council at the same time as him. 
Cathal loved Westerns on the television and he also liked reading books such as Guerrilla Days in Ireland by Tom Barry and My Fight for Irish Freedom by Dan Breen.  For those who knew him, there was a bit of Barry and Breen in Cathal.  Ann and Cathal liked songs such as North to Alaska and River Road and it was fitting that Tom Williams was sung at his funeral.
Before he died, Cathal was going to check out a good cruise. He liked this type of tranquillity.  Zenia was to look up the internet for the details. It was known too that Cathal was planning to come out of Dublin where he spent much of his working life and he was instead going to pick up a few work-related projects in Dromore.
Cathal Quinn will long be remembered. A man who was totally at ease with young and old alike.  A legend in the eyes of many, his death has had a profound effect.
Go ndéana  Dia trócaire ar a anam úasal.

BY BARRY McELDUFF