17 May 2007 Edition
Dáil General Election Profile: Paul Hogan, Longford/Westmeath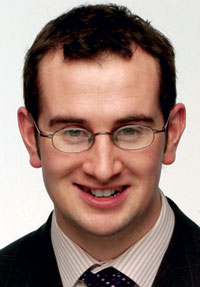 At 24, Councillor Paul Hogan is the youngest candidate in the Longford/Westmeath constituency.
He is Deputy Mayor of Athlone and is studying History, Maths and Irish at NUI Maynooth.
The single event or issue which has influenced me most in becoming a political activist is...
The quest to liberate the Six Counties from British rule and the establishment of an all-island, democratic and socialist republic based on the 1916 Proclamation.
The person who has inspired me the most is...
Nelson Mandela for his efforts in the struggle in South Africa against apartheid. He became the first president of South Africa to be elected in fully representative, democratic elections after spending 27 years in prison for his political beliefs. 
I think people in power should pay more attention to...
All the people they are supposed to represent and the issues that affect all the people, not just their inner circles of supporters.
If there was one thing I could get done overnight in Longford/ Westmeath it would be to...
Provide social and affordable housing to cater for those families who are currently on the housing lists here. There are approximately 1,000 families on local authority housing lists in this constituency.
One thing I've enjoyed in my constituency has been...
The unveiling of the Martin Hurson Memorial in Lanesboro.
The six famous people I think would be interesting guests at a dinner party would be...
Christy Moore, Tommy Tiernan, Nelson Mandela, Che Guevara, Martin Luther King, Countess Markievicz.
My most memorable film is...
H3, by Les Blair, Laurence McKeown and Brian Campbell because it depicts the cruelty and torture that was enforced on Irish political prisoners during the Blanket Protest and the Hunger Strike of the late 1970s and early 1980s.
My favourite musicians are...
Snow Patrol. And, not like the prospective British prime minister, Gordon Brown, I actually do listen to them!
An Phoblacht Magazine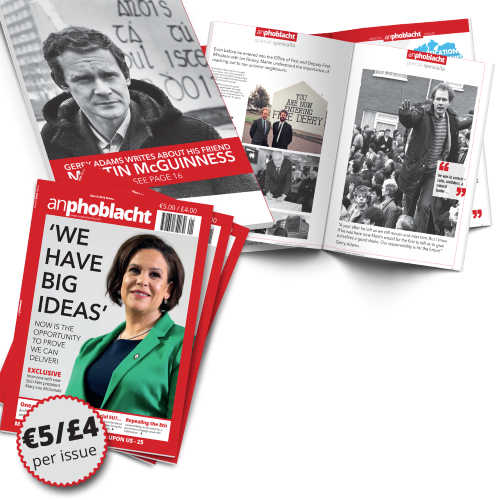 AN PHOBLACHT MAGAZINE:
The first edition of this new magazine will feature a 10 page special on the life and legacy of our leader Martin McGuinness to mark the first anniversary of his untimely passing.
It will include a personal reminiscence by Gerry Adams and contributions from the McGuinness family.
There will also be an exclusive interview with our new Uachtarán Mary Lou McDonald.
test