17 May 2007 Edition
Dáil General Election Profile: Cionnaith Ó Súilleabháin, Cork South-West
Cionnaith Ó Súilleabháin (40) is a founder member of the Clonakilty Fairtrade Committee which worked to make his home town Ireland's First Official Fairtrade town in 2003.
Cionnaith is active in the Post Office Action Committee, Special Olympics Committee, Carberry Housing Association, PANA (Peace & Neutrality Alliance) and  Glór na nGael Cork. He is a member of the Independent Workers' Union.
The issue which influenced me most in becoming a political activist was...
Section 31 of the Broadcasting Act which used to ban Sinn Féin and republicans from TV and radio – if the state was denying people with a viewpoint the right to communicate this to the wider public, something must have been right about them, and it had to be checked out. After that there was no turning back. The second thing was the Garda Special Branch for the same reasons.
The person who has inspired me the most is...
My paternal grandfather, who was an IRA internee from 1919-1921 in Ballykinlar Camp, County Down. Though he rarely spoke about those times, I was always aware of it. Also Bobby Sands. I was 14 years of age when he died. I will always remember turning on the 8 o'clock RTÉ News on my radio on 5 May which announced he had died at 1.15 that morning. I remember feeling 'Why did this man die in such a painful way? He must really believe in what he stood for.' The world needs more principled people like Bobby Sands.
I think people in power should pay more attention to...
Voters between elections – they might learn something useful!
One thing I've enjoyed in my constituency has been...
Seeing the look of dismay on the faces of political opponents and the Garda Special Branch in the count centre when I was first elected in 1994. The next best was the even sadder faces on the same people five years later when I topped the poll!
My most memorable book and TV programme...
The Irish Hunger Strike, by Tim Pat Coogan. I read it while in college in 1985 and was appalled by what had gone on before during and after the Hunger Strike of 1981. I couldn't believe the oppression happening in my own country and couldn't understand why this wasn't in the news every day of the week.
My favourite musicians are...
The ballads by The Wolfe Tones. These were just as much a part of my politicisation and raising my awareness about my history as the books I read.
An Phoblacht Magazine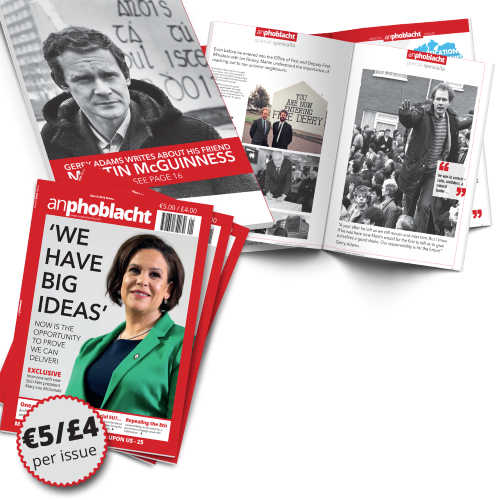 AN PHOBLACHT MAGAZINE:
The first edition of this new magazine will feature a 10 page special on the life and legacy of our leader Martin McGuinness to mark the first anniversary of his untimely passing.
It will include a personal reminiscence by Gerry Adams and contributions from the McGuinness family.
There will also be an exclusive interview with our new Uachtarán Mary Lou McDonald.
test