15 February 2007 Edition
Dáil general election profile: Joanne Spain, Dublin Mid-West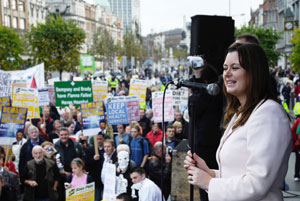 We will show how effective female republican TDs can be
JOANNE SPAIN is Sinn Féin's candidate for Dublin Mid-West, where Health Minister Mary Harney is a TD. At 27, Joanne will be one of the youngest candidates in the general election.
She grew up in a socially disadvantaged council housing estate in Dublin but overcame obstacles in her way and graduated in 2002 from TCD.
Joanne cites Larry O'Toole, Sinn Féin councillor in Darndale, near where she grew up, as a major influence on her decision to join Sinn Féin. On leaving college she worked for An Phoblacht until selected last year as a Sinn Féin general election candidate. She talks to ARAN FOLEY about her life and her work as a political activist.
Is there a history of politics in your family?
Not so much with my parents, although they were always both actively involved in their respective trade unions. My father worked for Dublin Corporation and my mother has worked in betting shops all her life. My grandparents, though, were involved in the freedom struggle from 1916 through to 1922.
You grew up in Belcamp. What was that like?
We were extremely poor and our family suffered the effects of some of the problems that tend to bedevil working-class communities, such as alcoholism. The entire area was already impoverished and then it was hit with drugs in the early 1980s. We had family that were better off, so we were acutely aware of the social deprivation that surrounded us.
Growing up in Belcamp led to the development of my political consciousness. For example, I was on the school book scheme and the school lunch scheme and that set me apart from classmates from other areas. At the same time, the teachers were telling me that I was bright and I should consider going to college, but like many others at that school I had no support behind me pushing me down the college route.
I struggled to get to the end of my schooling because, by that time, my father had died and my mother could really have used some money coming in. When I went to college in 1999 I had to move out. I had to work four days a week to put myself through college and missed most of my lectures because of it.
So you made it to college?
Yes, I went to Trinity College Dublin and studied politics and philosophy.
One of the first things that struck me was there were many students there who weren't as bright as some of the people I grew up with, but because they were from well-off backgrounds they had been gifted this golden opportunity. Many of my school friends had been forced into jobs in supermarkets or in hairdressing, etc, to bring in a wage but they could have wiped the floor intellectually with many of the people I was in college with. This made me very aware of the inequality in Irish society and the effect this has on a person's life.
As part of the degree I did work experience as a reporter with the Sunday World.
I was sent to Darndale to interview local Sinn Féin Councillor Larry O'Toole. I had been very aware of Larry while growing up and I greatly admired him. The story I submitted was very positive. Amazingly, it was published. So you could say I am responsible for one of the few — maybe the only? — positive stories in the Sunday World in relation to Sinn Féin [laughs].
That was in October 2001. Shortly afterwards, Larry asked me to attend a meeting in the area. And that was it for me: I got actively involved.
I was warned in the Sunday World that my interest in Sinn Féin could cost me a career. I ignored that. In 2002, on the day of my final exam in Trinity, I decided to put my writing skills to good use and went to work for An Phoblacht. I was there for four years, during which time I did some work for the Sinn Féin Press Office and was Dublin Public Relations Officer for a while.
You were selected as Sinn Féin's general election candidate in February 2006. How has that changed your life?
It's tough but rewarding.
Dublin Mid-West is a massive constituency, with 31,000 homes, taking in Clondalkin, Lucan, Palmerstown, Saggart, Newcastle and Rathcoole. Health is a very big issue, not least because Health Minister Mary Harney is in the constituency. She has failed Mid-West, like she has failed the rest of the people. Last year, she oversaw the shut-down of the local cervical cancer testing centre despite a rise in cervical cancer rates. Now women have to leave the area for the test.
I work with Sinn Féin's Health spokesperson, Caoimhghín Ó Caoláin TD, to put pressure on Mary Harney and the Department of Health over local medical issues.
There is a massive incidence of suicide in the area, which is related to social disadvantage. Mary Harney has tried to defend herself on this issue but she avoids mentioning the pitiful amount she's investing in the area.
I have a debate with her in the Clondalkin Gazette, which has made the front page. It's about the only forum I can engage her in as she is seldom seen in the estates where suicide is rife. Sinn Féin pickets her Clondalkin office once a fortnight and the response from the public is great.
We have a large working-class population in Clondalkin and in pockets of Lucan, and we also have families who moved out here because they couldn't afford homes in the city. They are very receptive to our message. Many are struggling with mortgages and a complete lack of infrastructure.
What other issues are priorities?
Housing is a big problem. 'Affordable' housing starts at about €260,000, so that is out of the reach of many working people. There are nowhere near enough social housing units being built to deal with the housing list.
I've just dealt with a woman who is on the list four-and-a-half years. She lives in a three-bedroom house with nine other people!
One of the rewarding things about doing what I do is when you have a success. Last week I helped stop a 20-year-old girl with cerebral palsy from becoming homeless. When you're helping people like that it's truly overwhelming.
Do people see you differently, being a female candidate?
Well, I have a 19-month-old daughter but I am very lucky in that my husband, Martin, stays home to look after her. He is a Sinn Féin member too and he appreciates why I have to put in long hours. The local organisation is also supportive and I get to spend time with my daughter every day.
I find a lot of women are very responsive to me as a candidate because they see that I am like them — I am a young mother struggling to raise a family and pay a mortgage, and I am doing it all for my baby.
I want my daughter to grow up in a united Ireland and benefiting from the social policies that Sinn Féin espouses.
And I want to show her that there is no glass ceiling for women anymore, that her mammy came from a working-class estate and still managed to go to college, get a degree and end up working, hopefully, in the Dáil, making changes that make everyone's lives better.
For those reasons I hope both myself, Mary Lou McDonald and many more Sinn Féin women candidates are elected.
I think we will show how effective female republican TDs can be in Leinster House.
Joanne with her daughter, Isobel
An Phoblacht Magazine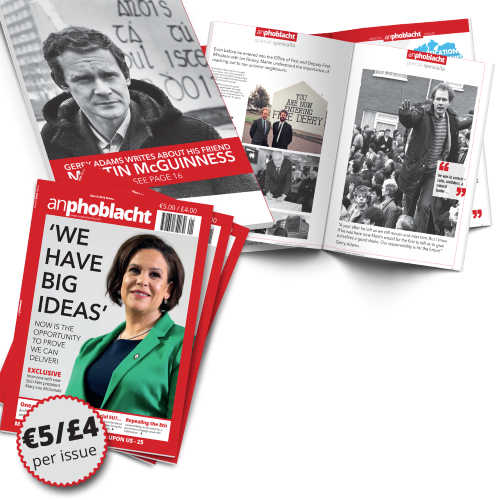 AN PHOBLACHT MAGAZINE:
The first edition of this new magazine will feature a 10 page special on the life and legacy of our leader Martin McGuinness to mark the first anniversary of his untimely passing.
It will include a personal reminiscence by Gerry Adams and contributions from the McGuinness family.
There will also be an exclusive interview with our new Uachtarán Mary Lou McDonald.
test