1 February 2007 Edition
Extraordinary Ard Fheis: Afternoon session 2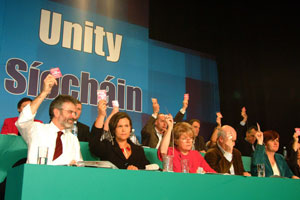 Motion passed by huge majority
BY CAOILFHIONN Ní DHONNABHÁIN
A long queue of delegates were still waiting to speak as Cllr Martin Kenny, Dáil candidate for Roscommon/South Leitrim reached the podium at 5 o'clock.  Kenny outlined how up till two months ago he was entirely opposed to the proposition the Ard Fheis was debating. "However one of the things that struck me was unionism said when the IRA ceasefire happened – they said it was the most destabilising thing that could happen.  They see us not as giving something, they see us as taking something.   And I think we have to the courage to take it".
Concluding Kenny said: "We have to have the courage and determination to take what is ours  – to take back our nation and a part of that step is to take this step forward on policing.".
Former POW Marie Gavigan of Bray Sinn Féin asked delegates to consider a number of points before voting.  These included the fact that criminals were filling the void which the absence of proper policing.
Waterford Dáil candidate Councillor David Cullinane urged people not to forget that political policing had also been experienced in the 26 counties. "Remember the attempts by the Garda Special  Branch  to prevent Martin Ferris from taking a seat – they failed and the  people of Kerry came out in their thousands and supported Martin Ferris. If that is not political policing I don't know what is!"
Concluding he said "The message from this Ard Fheis today should be loud and clear that we will continue to fight for proper policing North and South until it is achieved". 
Padraig Mitchell from Cappagh, East Tyrone recalled the analogy, made by Gerry Adams during the debate amongst republicans on the Good Friday Agreement of a bus journey to a united Ireland. The bus would make many stops and that each time a few might get off, but that many would get on.  Mitchell said "This has been a long stop  it has allowed time for  republicans to have a wide, deep and at times a difficult debate – but it is time now to move forward".  It was time to get back on the bus according to Mitchell. "Let there be absolutely no doubt East Tyrone remains on board", he said.
Padriag Malone of the Clancy/O'Callaghan Cumann, Limerick city, told how the Sinn Féin organisation in Limerick city decided  to vote in favour of the motion "not without doubts and not without misgivings".  He said that "A decisive factor in arriving at this decision was the final paragraph of the motion  which sets forth certain conditions before the motion can be implemented". 
Caoimhghín Ó Caoláin TD spoke of the "very genuine republicans" who had a deep rooted fear of the proposition before the Ard Fheis. He said it was now time to   "leave that sense of fear and dread to those who are looking at the events here today in trepidation of our taking the right decision and that is to back this motion, to say yes and leave the fear and dread with them".
A queue of delegates still waited to speak when  Frank O'Neill of the Munster Cúige took to the podium to put a proposition that the vote be called saying "People who live long distances away have to go home".  The proposition to call the vote was greeted with a huge round of applause and after the Chair Pearse Doherty put the proposition to the floor, delegates agreed to take the vote at that point and the remainder of the queue dispersed.
Before the substantive motion was to be voted on the amendments to the motion were taken.  Amendments 4,7,8,9,10,11,17,18 had been withdrawn.  Following a vote Amendments 3, 12, 13, 14 and 15 were accepted  and amendments 1, 2, 5, 6 and 16 were defeated. 
The substantive motion was then put.  It was passed by a majority of around 90%.
An Phoblacht Magazine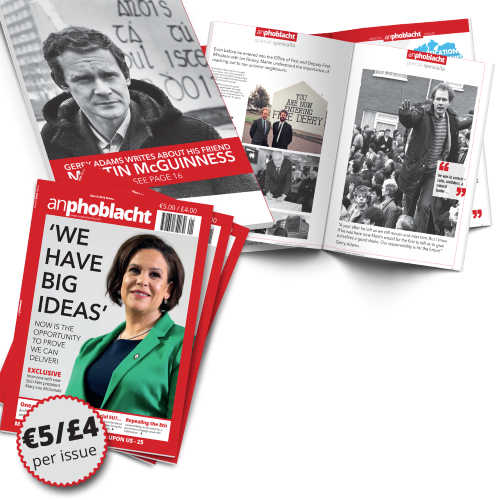 AN PHOBLACHT MAGAZINE:
The first edition of this new magazine will feature a 10 page special on the life and legacy of our leader Martin McGuinness to mark the first anniversary of his untimely passing.
It will include a personal reminiscence by Gerry Adams and contributions from the McGuinness family.
There will also be an exclusive interview with our new Uachtarán Mary Lou McDonald.
test