26 October 2006 Edition
Power, madness and economists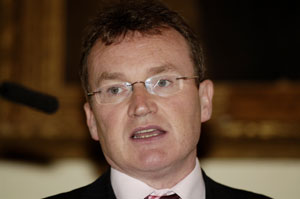 BY
 CAOILFHIONN
 Ní DHONNABHÁIN
Last week, Sinn Féin MEP Bairbre de Brún was on the Newstalk radio station to talk about an important one-day conference organised by the party at the European Parliament to discuss how the EU can assist in ending partition and in the process of Irish unity. Jim Power, Chief Economist with Friends First and self-styled Sinn Féin bête-noir, was unleashed by Newstalk to destroy de Brún's arguments.
The Sinn Féin MEP outlined the benefits of developing an all-Ireland economy, for people on both sides of the border, and the necessity for progress to be made in driving this forward. Power whimpered that an all-Ireland economy was impossible. It was impossible, he insisted, because Irish unity would not happen. And that was it. That was the sum total of his arguments.
In dismissing the potential of an all-Ireland economy, Power exposed how out of touch he actually is. The logic and inevitability of the 32 County economy have been argued by a diverse range of economists and political figures not generally known for their republican sympathies.
So who has said what? Peter Hain last year stated, "In future decades, it is going to be increasingly difficult to look at the economy of North and South except as a sort of island of Ireland economy."
Finance Minister Brian Cowen has made clear his, and the Government's, support for the development of an all-Ireland economy on the basis of its indisputable logic.
John Bradley of the Economic and Social Research Institute, in a paper entitled "An Island Economy or Island Economies - Ireland after the Belfast Agreement", wrote: "Remaining as part of the UK under direct rule will very likely doom [the Six Counties] to play out the process of continued industrial decline, stagnation and dependency" and "What is required is not for the North and the South to develop separately, as two competing regions, but to facilitate their coming together, building on strengths and eradicating weakness so that genuine synergies can be realized for mutual benefit."
Bradley is not the only economist making this argument. George Quigley, a former senior civil servant and a leading business figure in the North, had stated as far back as 1993 that "it would be ludicrous to be part of a single European market post-1992 and fail to transform the island of Ireland into a single market, not simply to raise cross-border trade, but also to develop all-island economic synergies."
In November 2005, leading economist Stephen Kingon, managing partner of PricewaterhouseCoopers in the Six Counties and now Chairperson of Invest NI, told a meeting of the British-Irish Inter-Parliamentary Body that better co-operation between North and South would benefit both economies.
Economic commentator David McWilliams has said, "Anyone who spends any time in the North will realise the logic of an all-Ireland economy."
Jim Power is the guard dog of the establishment. He barks loudly but there's not much bite. His arguments don't add up to very much. Sinn Féin is ready and willing to debate our economic policies and objectives for the future of the economy with anyone, anytime. So keep it up, Jim.
An Phoblacht Magazine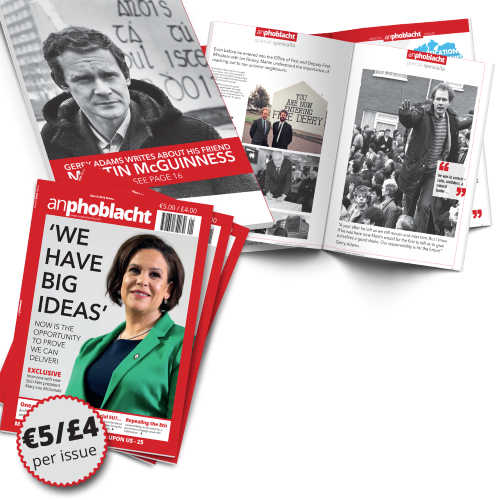 AN PHOBLACHT MAGAZINE:
The first edition of this new magazine will feature a 10 page special on the life and legacy of our leader Martin McGuinness to mark the first anniversary of his untimely passing.
It will include a personal reminiscence by Gerry Adams and contributions from the McGuinness family.
There will also be an exclusive interview with our new Uachtarán Mary Lou McDonald.
test