26 October 2006 Edition
Media View
Who fears to speak of Sinn Féin?
Who fears to speak of Sinn Féin? Most of the hacks and their media masters can only warm to a Sinn Féin story if it involves a former prisoner (and his/her record), a distorted quote that indicates support for violence, or unspecified and unsubstantiated allegations of criminality. But political campaigns, a Dáil speech on the health service or the grilling of a government minister about cronyism does not fit into the tabloid caricature of a republican politician and must therefore be ignored - or even worse, it should be distorted to the point where other political parties are credited with republican initiatives.
Caoimhghín Ó Caoláin last week provided the Irish Independent with a good headline when he asked Bertie Ahern about his representations to those ministers who had appointed three of the Drumcondra philanthropists - Des Richardson, Joe Burke and David McKenna - to state boards. "Ahern defiant over loans from state boards trio" proclaimed the Indo headline, underneath which appeared several hundred words about the Dáil debate that produced this story.
Amazingly, the lengthy article omitted to mention the politician that had mentioned the three charitable gents who bailed out the Taoiseach and instead referred to Labour leader Pat Rabbitte, who had asked a supplementary to the Sinn Féin parliamentary leader's question. This is just one of many examples whereby Sinn Féin representatives are excised out of political discourse for fear that their political credibility will be enhanced.
Fortunately, these spiritual adherents of Section 31 cannot prevent republicans from talking to people on the ground, in trade unions, in residents and community groups and wherever people gather to try and change their lives. Rabbitte, Enda Kenny and the like are rarely present at such meetings and the republican message cannot be silenced in such company. The media and the powerful interests who control it are right to be afraid; the political logic of such censorship is irrefutable.
ooooooooooooooooooooo
"Death threats" against a minister; "fear and loathing" in the countryside; "outside agitators" fanning unrest. Are these quotes from an Iraqi war correspondent? No. They are headlines from newspaper coverage of the most genuine, community-based protest staffed by the most mild-mannered and least ideologically-driven people that the West of Ireland has seen in years: the Shell to Sea campaign. The campaigners have the most subversive aim imaginable, namely, that local people's safety should take priority over the easy profits of the giant multinational Shell.
Such a demand, in the current culture of greed and a quick buck, probably is subversive in the eyes of those who have sold Irish oil rights for a song. But the media have gone into overdrive and the usual overkill in their efforts to depict the protests at Bellanaboy as the machinations of the Connacht chapter of Al Qaeda. There are violent outsiders at work in Bellanaboy, all right. They are those - in Shell, and elements in the local 'business' community - who have ensured that the biggest contingent of Gardaí ever amassed in the locality have been drafted in to intimidate protestors. If a female Garda had been taken to hospital suffering from concussion - as Shell to Sea activist Maura Harrington was during one protest recently - there would have been even more hysteria from the 'outside' hacks sent down from Dublin to distort events in Mayo.
The Irish Independent's Ciarán Byrne distinguished himself last weekend, in a truly disgraceful piece of journalism in which every possible smear and innuendo was marshalled to denigrate the protestors. Byrne's article had it all - the outside agitators, Sinn Féin, anarchists and eco-warriors "keen to pick a scrap with Gardaí", intimidation of locals, death threats, the lot - in what now passes for investigative journalism in the Indo.
If local Sinn Féin members were not involved in this protest they would be negligent and would have no right to call themselves republicans, but to pretend that Sinn Féin can orchestrate such a protest out of thin air is an insult to the local community. Byrne will have to do a lot better than this if he wants to live down his leading role in the Sunday Independent's scandalous and fictitious reportage of the late Liam Lawlor's death with a Moscow "prostitute" a year ago.
ooooooooooooooooooooo
Stephen Collins, the most driven of those political correspondents working to elect a Fine Gael-led coalition, was anxious to assure Irish Times readers last Saturday that all is not lost following the Bertiegate fiasco which resulted in the alternative government bombing in the polls. If only the Opposition had gone in harder on Bertie, moaned Collins, who also dismissed the accusation that the media (The Irish Times to be precise) had fuelled the campaign without providing the killer punch itself. But Stephen, like the Liverpool football manager trying to persuade players and fans that the Premiership is not lost, issued a rallying cry to Fine Gael and Labour, urging them to produce good candidates locally in order to counteract Bertie Ahern's national appeal. Collins also appealed to a "vision of society" to win "hearts and minds" and put forward Enda Kenny's "natural affability" as an asset (although not "in Dublin"!).
Collins's analysis underlined, unintentionally, the impotence of the so-called Opposition by failing to provide a single example of a political policy or programme of Kenny or Pat Rabbitte that might distinguish them from Fianna Fáil and the PDs. To find that, one would have to overcome the fear of speaking of Sinn Féin.
An Phoblacht Magazine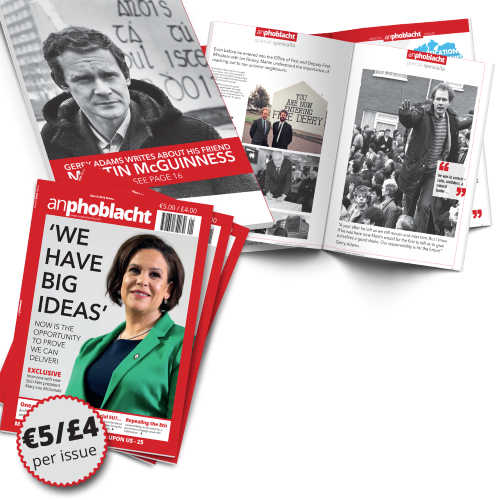 AN PHOBLACHT MAGAZINE:
The first edition of this new magazine will feature a 10 page special on the life and legacy of our leader Martin McGuinness to mark the first anniversary of his untimely passing.
It will include a personal reminiscence by Gerry Adams and contributions from the McGuinness family.
There will also be an exclusive interview with our new Uachtarán Mary Lou McDonald.
test