26 October 2006 Edition
Fight for decent health services must continue
The thousands of people who attended the Sinn Féin rally for healthcare rights last Saturday 21 October gave further testimony to the widespread anger about the state of the Irish health service.
Local hospital campaigners aswell as healthcare workers were well represented at last week's rally, underlining the fact that public and professional opinion is united in concern and frustration at the ongoing crisis in our health services.
The Irish Government however, continues to appear insulated from public opinion on this issue and it is clear that the pressure, manifested in Dublin city centre last Saturday must continue if progress is to be made. The campaign for a decent and equitable health service needs to be stepped up throughout Ireland and it must be made a key issue in the forthcoming 26 County general election.
The current Fianna Fáil/PD Government remains intent on privatising healthcare. It is forging ahead with offering tax breaks and hospital land to their wealthy cronies to build private hospitals for the well-heeled.
With a vast budget surplus of €1.8 Billion for this year alone, the government believes it can ignore the crucial issue of health and buy the next election with a so-called 'give-away budget'. Only a determined and relentless campaign will disabuse them of this notion.
For some time now the establishment media in the 26 Counties have chosen to ignore the real political issues affecting the lives of ordinary people throughout the state. They are determined to ignore the fact that Sinn Féin remains the one party which has a clear vision for a modern and effective system of healthcare.
Sinn Féin has outlined a comprehensive, radical and progressive policy which advocates a healthcare system based on equality with free access for all at the point of entry. Party representatives, members and supporters should continue to promote this policy through protest action and outreach with healthcare workers and local action groups.
More acute hospital beds are urgently required to solve another A&E crisis this winter. In 2001 the Fianna Fáil/PD Government said 3,000 beds were needed and they were going to provide them. They have provided only 535 extra beds since 2001. With a rapidly expanding population we now have fewer beds per head of population than we had five years ago. The 26 County Health Minister and the head of the Health Service Executive cannot even agree on how many beds we need.
Let the campaign for decent healthcare be taken forward with renewed vigour in the time ahead.
An Phoblacht Magazine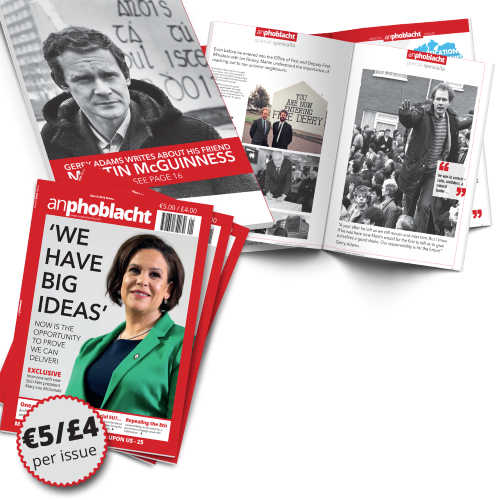 AN PHOBLACHT MAGAZINE:
The first edition of this new magazine will feature a 10 page special on the life and legacy of our leader Martin McGuinness to mark the first anniversary of his untimely passing.
It will include a personal reminiscence by Gerry Adams and contributions from the McGuinness family.
There will also be an exclusive interview with our new Uachtarán Mary Lou McDonald.
test