19 October 2006 Edition
Proposals deserve careful consideration
The conclusion of political talks in Scotland last week involving the Irish and British Governments and all of the political parties in the Six Counties, and the tabling of proposals by the two governments has been greeted with much hope and expectation in Ireland and abroad.
So far no one has agreed to the St Andrews proposals except the British Prime Minister and the Taoiseach.
Sinn Féin is continuing to discuss the detail of the proposals and other related matters with the two governments. There is still much work to be done.
The Sinn Féin leadership is currently engaged in the important task of consulting with party members and the wider republican community to see if the proposals contain the potential to resolve outstanding issues and deliver the full implementation of the Good Friday Agreement.
The proposals deserve careful consideration by republicans. The immediate task should be to explore if what is being proposed can offer a realistic and viable way forward for the political process; whether the proposals are in line with the Good Friday Agreement, endorsed by a vast majority of Irish people in 1998; and indeed whether they can enhance the democratic objectives of the republican struggle. Issues of this importance, with such major implications, require careful study, comradely debate and thorough discussion.
All republicans throughout Ireland have a duty and a responsibility to assist in charting the way forward. Republicans must take ownership of the process of directing our project and enhancing the struggle for a united, independent Ireland.
The prospect, after so many years, of bringing rejectionist unionism into the peace process would be an enormous political achievement.
It must be remembered that it has always been the intention of Irish republicans to forge a peaceful future with those people who are represented politically by Ian Paisley and the DUP.
Republicans will once again approach the latest developments calmly and applying the political maturity and sophistication that has become the hallmark of Sinn Féin.
A crucial consideration for republicans will be whether the latest government proposals contain the potential to deliver equality, accountable civic policing, human rights and the full restoration of the institutions of the Good Friday Agreement.
An Phoblacht Magazine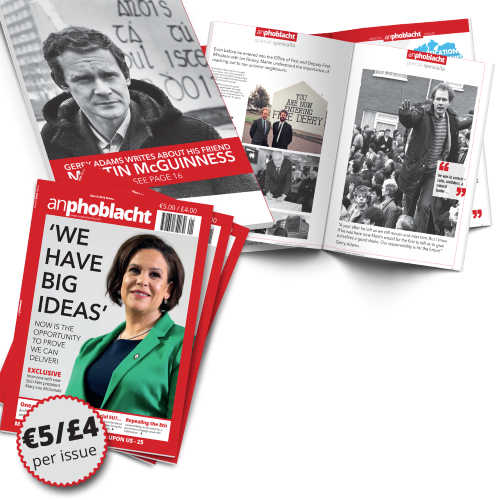 AN PHOBLACHT MAGAZINE:
The first edition of this new magazine will feature a 10 page special on the life and legacy of our leader Martin McGuinness to mark the first anniversary of his untimely passing.
It will include a personal reminiscence by Gerry Adams and contributions from the McGuinness family.
There will also be an exclusive interview with our new Uachtarán Mary Lou McDonald.
test