12 October 2006 Edition
Call for solidarity in wake of Bellanaboy clashes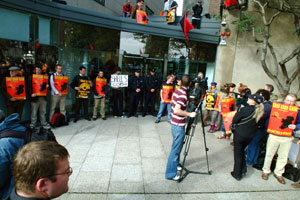 Shell to Sea campaigners have accused the Gardaí of "progressively rougher tactics" in order to enable Shell personnel and machinery enter the controversial gas terminal site at Bellanaboy, County Mayo.
The claim was made after around 100 protestors, opposing Shell contractors' attempts to enter the site, staged a sit-down demonstration on the Bangor-Erris to Bellanaboy road on Monday.
Gardaí brought in reinforcements to facilitate the passage of Shell workers. Their tactics have been criticised as heavy-handed, with several assaults on protestors taking place. The Irish language newspaper Lá carried reports from protestors that some of the Gardaí drafted into the area to facilitate the Shell operation were armed. Over 100 Gardaí remain at Bellanaboy.
In the wake of the clashes, Sinn Féin Natural Resources Spokesperson Martin Ferris TD called on people to support solidarity protests against Shell facilities across Ireland. In a strongly worded statement, Ferris accused Shell of reliance on "dodgy polling, brute force and scab labour" as proof of how isolated their position is and said the company is prepared to "lie, cheat and intimidate" to get its way.
Shell running scared
The Kerry North TD said: "The proof that Shell is running scared is laid out in today's Irish Examiner, where the company makes the laughable claim that 70% of people back their proposals. The reality is that the biased nature of this polling was exposed some weeks ago when people went public about the way pollsters treated them when they said they supported the Rossport campaign. It also comes a week after a TG4 poll, with a much bigger sample, found 60% support for the campaign.
"That Shell is forced to rely on dodgy polling and brute force to get its scab labour into the Bellanaboy site is proof of just how little support the project has in Mayo, and further afield. Since the stand-offs resumed in Mayo at the start of last week, demonstrations of support have taken place in Dublin, Belfast, Cork, Derry, Limerick, Galway and other places. Shell stations and offices have been blockaded and depots shut down. Support for the campaign is clearly as strong as ever.
"It is important that these solidarity protests not simply continue but escalate. Anyone able to get to Bellanaboy to help local people should do so. For those who cannot, I would urge them to support pickets of Shell stations, offices and facilities in their local area. After years of campaigning, it is clear that Shell has got the message that their on-shore processing plant is not wanted; they are merely indifferent to the wishes of local people and prepared to lie, cheat and intimidate to get their way."