23 January 1997 Edition
Remembering the Past : Kevin Barry
KEVIN BARRY, hanged at the age of 18 in November 1920, was the first republican to be executed by the British after the 1916 Rising.

Barry, the fourth of a family of two boys and four girls, was born at 8 Fleet Street, Dublin, in 1902. Following the death of his father in 1908, the family moved to Tombeagh, County Carlow, where he attended Rathvilly National School.

Later he went to St Mary's College in Rathmines in Dublin, and in 1916 he transferred to Belvedere College. A keen athlete and student, Kevin won a Dublin Corporation scholarship in 1919 and in the autumn of that year entered University College Dublin to study medicine.

In Carlow, an area rich in folk memories of 1798, Barry had learned all about Michael Dwyer and the United Irishmen. He joined the Irish Volunteers when he was only 15 and six months later he became a member of the Clarke Luby Circle of the IRB.

Section Commander


By the summer of 1920, Barry held the rank of section commander and took part in most of the Brigade operations against the British forces in Dublin.

In June, he was one of a group of IRA Volunteers under the command of Peadar Clancy (murdered by the Auxiliaries in Dublin Castle three weeks after Barry's execution) who carried out a successful raid for arms at the King's Inns, where British troops were billeted.

On 20 September, Barry was among 23 Volunteers who took part in a raid for arms on a British patrol at Monk's bakery in Church Street. After a short but fierce gun-battle during which a soldier was killed and four others wounded, the Volunteers were forced to withdraw due to the imminent arrival of British reinforcements from the nearby North Dublin Union.

Everyone got away except Barry. Although tortured by the enemy, he refused to name any of his comrades.

Sentenced to death


On 20 October, he was court-martialled and sentenced to death. There were calls from all sections of the community to have the sentence commuted because of his youth, and his comrades in the Dublin Brigade made several unsuccessful attempts to rescue him from prison.

At 8am on Monday 1 November 1920, he was hanged in Mountjoy Jail and buried inside the prison walls. His last message to his comrades was:

``Hold on and stick to the Republic.''

Kevin Barry was born in Dublin on 20 January 1902, 95 years ago this week.


An Phoblacht Magazine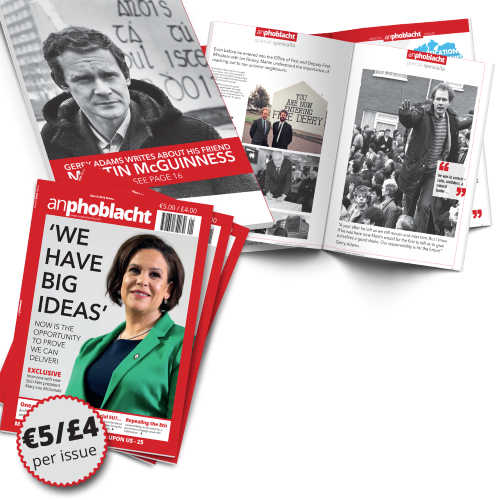 AN PHOBLACHT MAGAZINE:
The first edition of this new magazine will feature a 10 page special on the life and legacy of our leader Martin McGuinness to mark the first anniversary of his untimely passing.
It will include a personal reminiscence by Gerry Adams and contributions from the McGuinness family.
There will also be an exclusive interview with our new Uachtarán Mary Lou McDonald.
test