13 July 2006 Edition
Remembering the Past
Tragedy on the border
On Saturday 17 July 1976 two IRA Volunteers on active service - Patrick Cannon from Dublin and Peter McElchar from Donegal set out in a car in which they were transporting an explosive device. They crossed the border from Donegal into Tyrone and were approaching the town of Castlederg when the device exploded prematurely. It was about 2.15pm.
Peter McElchar was killed instantly. Patrick Cannon was gravely injured and was taken to Tyrone County Hospital in Omagh. He was being transferred to hospital in Belfast when he died.
Patrick Cannon was born in Dublin on 28 November 1955. He was one of a family of seven, three girls and four boys. The Cannon family home was in the suburb of Edenmore, one of the many housing estates that were developed on the northside of the city in the 1960s and '70s.
He served his time as a fitter welder and worked in Carrick-on-Suir in County Tipperary and in Letterkenny, County Donegal from the beginning of 1976 and was employed there at the time of his death.
Peter McElchar from Knock, Ballybofey in County Donegal was 19 years old. Though only a Volunteer with Óglaigh na hÉireann for a short period prior to his death he was an active and committed member of his local unit.
The fact that Cannon and McElchar were both from the 26 Counties seemed to anger the British and their unionist allies who heavily condemned the actions of the young Volunteers.
At Patrick Cannon's funeral in Edenmore, Dublin His coffin was draped in the Tricolour and was accompanied outside the church by an IRA guard of honour. Shots were fired in a final salute. Members of the Garda Special Branch then attempted to disrupt the funeral, assaulting several people, including a pregnant woman, before order was restored.
Despite the attack and intimidation, hundreds of people accompanied the funeral to the family plot in Balgriffin Cemetery. At the graveside the oration was delivered on behalf of the Republican Movement by Seán Keenan of Derry who had lost his own son, IRA Volunteer Colm Keenan, in 1972. Seán Keenan said of Cannon: "He was a brave and great soldier who died fighting for the freedom of his country."
IRA Volunteers Patrick Cannon and Peter McElchar died on 17 June 1976, 30 years ago this week.
An Phoblacht Magazine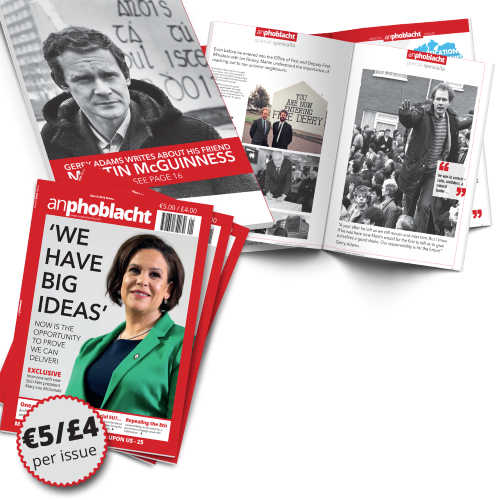 AN PHOBLACHT MAGAZINE:
The first edition of this new magazine will feature a 10 page special on the life and legacy of our leader Martin McGuinness to mark the first anniversary of his untimely passing.
It will include a personal reminiscence by Gerry Adams and contributions from the McGuinness family.
There will also be an exclusive interview with our new Uachtarán Mary Lou McDonald.
test