22 June 2006 Edition
Call for action on Dublin murders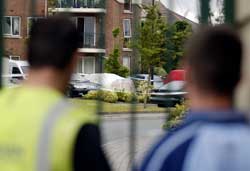 There is growing concern at the recent spate of murders in Dublin city with Justice Minister Michael McDowell facing mounting criticism for his failure to tackle the issue of gangland violence and the continuing drugs problem with which such activity is linked.
Sinn Féin Dublin City Councillor Larry O'Toole has called for the establishment of a dedicated Garda task force in North Dublin. O'Toole said people in the community are horrified at the senseless loss of life and want to see real action to resolve it. He was speaking after the death of 22-year-old James Purdue in Donaghmede last Monday. Purdue was the sixth person to die in the area of north east Dublin in the last five months. The majority of those who died were in their 20s.
"Many of the deaths that are taking place, not just in North Dublin, but across Dublin are drugs related. Not only are drugs becoming more prevalent on our streets, every shipment of drugs coming into this country also has guns with them. In many ways what we are witnessing is the tip of the iceberg", O'Toole said.
"Politicians and the Gardaí need to get real about the scale of the problem. "I, for one, am sick of listening to Justice Minister Michael McDowell talk nonsense. Instead of announcing more new laws, existing laws need to be implemented. And all of the relevant agencies need to be working together. I am calling for a dedicated task force to be set up for the Coolock area to bring an end to this spate of murders. I am also calling for an increase in the number of Garda Drugs Squads which have to be properly resourced. There needs to be a relentless pursuit of major drug traffickers", he said.
"But it is not enough to tackle the high levels of crime fuelled by the drugs trade. We also need to tackle the drugs crisis in our city, we need to meet the needs of families in those communities most affected. There needs to be a wider provision of services to addicts - services that are more flexible and available. The elimination of waiting lists for treatment must be a priority", said O'Toole.