18 May 2006 Edition
The Mitchel McLaughlin Column - Politics and the Media
Is it just me or do others agree that sections of the media contribute greatly to perceived cynicism towards the political process? The general public are variously described as disillusioned or disinterested in politics in this part of the world. But who makes these assessments? Very often it is political commentators and journalists who have the power to influence public opinion in a manner that no other section of society possesses!
Consider the reporting of the political impasse that parties are attempting to map a way out of. Invariably the situation is described as the responsibility of all the parties. This is not factually correct. Of the four main parties in the Assembly and all of the Independents it is only the DUP that refuses to participate in a fully functioning Assembly on the basis of equality of mandates. What is it in the psyche of political commentators that prevents them from being definitive in informing the general public when anyone, other than republicans, are believed to be responsible? The general response from the media is that "it is in the interest of balance". But is it the remit of journalists to distort a particular circumstance in order to spare the sensitivities of particular political parties or opinions? I don't believe so.
For many years republicans, because of censorship, had to be extra resourceful in getting our message out and despite the best efforts of governments and political opponents we were, by and large, successful in that endeavour. While continuing to engage proactively with all sections of the media we will continue to rely heavily on our own resources to deliver our message to the public. I have no fear of any organ of the media factually reporting and scrutinising the activities of Sinn Féin and its public representatives but I would ask that they apply equal diligence to the affairs of other parties and politicians in their public activities.
It is not good enough for commentators to regularly misrepresent events by the liberal use of such comments as 'they're equally to blame', 'both communities', 'all parties' and 'everybody accepts'. This applies equally to the reporting of acts of political violence or sectarianism as it does to reporting of political issues.
The public expects that politicians will present events in a manner that projects their own party in the best possible light. They do not deserve news organisations to present opinion or allegations as fact to satisfy a particular political agenda.
Perhaps if there was less of an obsession within sections of the media with the idea that every report has to be 'balanced' and more focus on facts, then maybe a better informed general public would develop a healthier attitude to politics and demand that politicians deliver on what they were elected to do. They would certainly be better equipped to identify those parties and politicians unwilling to deliver on the mandates entrusted to them.
An Phoblacht Magazine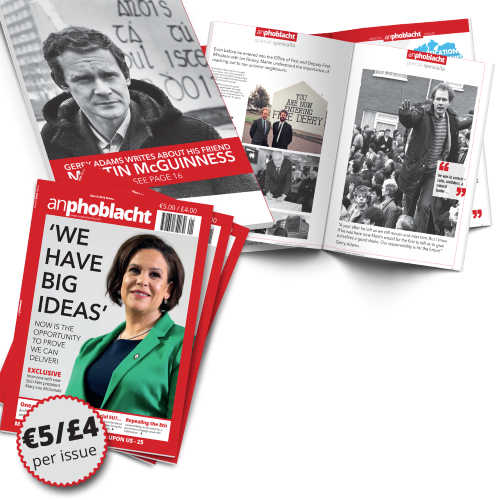 AN PHOBLACHT MAGAZINE:
The first edition of this new magazine will feature a 10 page special on the life and legacy of our leader Martin McGuinness to mark the first anniversary of his untimely passing.
It will include a personal reminiscence by Gerry Adams and contributions from the McGuinness family.
There will also be an exclusive interview with our new Uachtarán Mary Lou McDonald.
test