13 April 2006 Edition
Remembering 1981: Francie Molloy on the Bobby Sands election campaign
Electing Bobby Sands
Sinn Féin MLA Francie Molloy was Director of Elections for Bobby Sands in the historic 1981 by-election in Fermanagh/South Tyrone. This week he speaks to An Phoblacht's ARAN FOLEY about the election campaign.
Of the initial idea of running Bobby Sands in Fermanagh/South Tyrone Francie Molloy says that whenever Frank McGuire died, though a sad event, it was seen as an opportunity to raise the profile of the campaign. "We had been looking for a way to do this and the imminent by election was an obvious one. It would have to be a free run. In other words Sands would have to be the sole nationalist candidate.
Once we stood we had to win. It was a pretty tense time. The way it worked you had from 10am to 5pm to hand in the nomination papers and an hour after that to withdraw the name. I have to be clear on this, if anyone else was to run we would have to have withdrawn Bobby's name. As it was it wasn't till twenty to five that Frank's brother Noel indicated he wouldn't run and Austin Currie took it down to the wire.
Bernadette McAliskey had been saying she would run if Currie did so as I say, down to the wire. The hope now was that if Bobby was elected it would give a mandate for the 'prisoners demands and also him being an MP might make it easier for Thatcher's Government to negotiate. That's not the way it happened but that was the hope.
Molloy says, that as chair of the Tyrone H-Blocks Committee and of Sinn Féin's South Tyrone Comhairle Ceantair, he more or less "fell into" the role of Director of Elections. "I kind of just fell into it. It is important to note that this constituency had a tradition with prisoners. Frank McGuire himself was a former OC in Crumlin Road and Phil Clarke had been returned as a prisoner candidate in 1955 with Tom Mitchell being returned in Mid Ulster, so none of this was unprecedented and we felt confident that Bobby could take the seat."
Asked whether people had any sense of the momentous nature of the move or that it would be such a catalyst for a re-invigorated struggle and the impact it would have on Sinn Féin, he says there wasn't a master plan. "Most people were engaged with the immediacy of the situation, they weren't thinking beyond saving the prisoners' lives. ,However there was an awareness that this could be a new departure. As the campaign went on from strength to strength, I think some people started to take a long term view. I certainly did. This campaign strengthened the argument for a more general electoral strategy. So we didn't grasp the import fully although in hindsight it was the begining of Sinn Féin's electoral strategy."
The strategic thinking behind running Bobby Sands was very simple. It was to save his life and those of the other hunger strikers. "That was pretty much the pitch we made at the doors. We were saying to local nationalists- look, let's set aside our differences. If we can get him elected that will put it up to Thatcher. Let's get him elected and we can deal with any issues afterwards."
A lot of people made themselves available for the campaign. "Previous campaigns in the area had been very low key but this campaign was much more high profile. We postered the entire constituency and were out in teams of canvassers. We had a pink bus which we called the pink panther. It was festooned with posters and allowed us to carry droves of canvassers."
The count was in Enniskillen Further Education College. "It was a bastion of unionism at the time and the atmosphere was very tense. Election officials went out of their way to make things difficult with petty enforcement. They would try to keep you out with petty regulations, everything had to be right or you would not get in to the count or if you left they would try to keep you out.
"We were confident however. From the start of the count we knew there had been a high nationalist turn out. That was encouraging. Austin Currie had been running a spoiler campaign urging nationalists to spoil their vote and there was a slight worry I suppose that some of the turnout could have spoiled their vote. I didn't think so though.
"Austin Currie had been rejected by the people of Fermanagh/South Tyrone before. I think if anything the effect of his campaign was to galvanise republicans and nationalists. I think we knew we had it won quite early on.
"There was a sense of euphoria when he was actually elected regardless of this. As I have said, the hope that we all felt was not to be realised though through Thatcher's intransigence and bloody-mindedness."
He says the prisoners took a hands on approach even though they were incarcerated. "The campaign got comms, messages of support from them, and spokesperson Owen Carron was up to the prison to see Bobby regularly. They were very much aware of the importance of what was going on and obviously very much behind the campaign. Bobby's mother and sister had been very prominent in the campaign as were the relatives of other prisoners."
The media response was quite negative. "They constantly belittled Bobby's chances of taking the seat, even when it became clear that he had a real chance. Some of them would admit that privately, but it never featured in their reporting. They preferred to concentrate on the armed struggle, presenting it in a negative light and out of context.
"RTE were particularly bad. As I have said, Currie was running a spoiler campaign and he was never off RTE. They even did this dramatic shoot of him tearing up his ballot outside a count centre and again constant, one-sided references to the armed struggle. I think they overplayed their hand though. It was so blatant that people saw through it. They were galvanised rather than discouraged."
After the intial, huge surge of hope created by the successful election of Bobby Sands, Molloy says it gradually became clear that Thatcher was not interested in a resolu,tion. "As we now know not just Bobby Sands but nine other Hunger Strikers were to die. It was the start of something though, and Owen Carron held the seat after Bobby's death. This heralded the beginning of Sinn Féin as a serious electoral force again."
An Phoblacht Magazine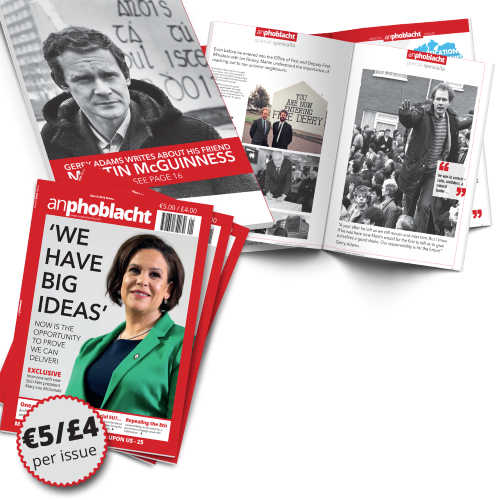 AN PHOBLACHT MAGAZINE:
The first edition of this new magazine will feature a 10 page special on the life and legacy of our leader Martin McGuinness to mark the first anniversary of his untimely passing.
It will include a personal reminiscence by Gerry Adams and contributions from the McGuinness family.
There will also be an exclusive interview with our new Uachtarán Mary Lou McDonald.
test