9 March 2006 Edition
Media View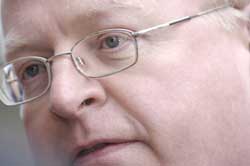 Minister's Lies ignored
BY JOHN O'BRIEN
When a Government minister is exposed as lying to the Dáil and to the general public, it is usually considered a resigning matter - even if anyone rarely resigns in this politically corrupt state.
Certainly where there is strong evidence that a minister blatantly lied in such a fashion, you would normally expect a free press, dedicated to the selfless search for truth, to report the evidence, sift it, analyse it and consider the implications.
Why then the incredible media silence about Michael McDowell and the Frank Connolly affair?
Readers will remember that McDowell leaked confidential documents from the Department of Justice - itself a serious resignation issue - to a selected journalist who also happened to be a close drinking buddy, Sam Smyth.
McDowell's excuse was that this 'information' - which was highly speculative and tendentious - had to be given to Smyth because Smyth had made a Freedom of Information (FOI) request for certain documents.
Leaving aside the fact that under Freedom of Information rules, security files are specifically excluded, TG4, in a follow up FOI request as to the nature of the original request, has found that there is no record of any such request ever being made!
The clear implication is that there was no such request by Sam Smyth, and that Michael McDowell lied when he said there was.
This is such a serious matter that you would have thought the front pages would have been given over to it. Not so. The paper of record, as it likes to style itself (The Irish Times to you and me), ignored the story, as did the Independent and The Examiner and, of course, the tabloids.
Only one newspaper followed the story up, with a vigorous front page article asking McDowell to produce the paper trail, and that was, of all things, the 'Irish' Daily Mail!
The Sundays did no better, and of course the Sindo spent most of its edition ignoring McDowell, but trying to blame republicans for the Love Ulster riot.
Has their news sense deserted them or are they just propagandists who dance to the tune of their far right masters? Certainly, if the media have anything to do with it, McDowell will get away with his 'economy' with the truth, but it looks as if the politicians won't be so accommodating, with even Fine Gael demanding answers to the obvious questions.
How long, I wonder, will the media be able to ignore this story?
*****************
While we're on the business of ignoring stories, isn't it amazing the way the Sunday Independent continues to try and mile the Love Ulster riot. Out of 22 analysis pieces last Sunday on every aspect (mar dhea) of Irish life, seven were dedicated to denouncing the theory that the rioters were alienated, lumpen youth and tried to blame republicans, even if by proxy.
Anti-Garda feeling is known to be virulent amongst young men from impoverished, working class communities who find themselves left behind in our economic advance, and while this rarely expresses itself as violently as it did during the loyalists' march, it remains a fact of Dublin life that needs examination.
But looking into questions like that is doubly unwelcome to the media bosses: firstly, their aim is to damage republicans by association with the riot, and secondly the last thing they want is to draw attention to the increasing inequalities in our prosperous society - inequalities that reflect the wealth of people like Tony O'Reilly and significant levels of poverty elsewhere.
*****************
The economy remains central, of course, to media discourse, with an almost unbroken barrage of 'opinion', 'analysis' and comment for some years now that argues that low taxes have created our prosperity. This is the Government line, basically supported by Fine Gael, and all three right wing parties - Fianna Fáil, Fine Gael and the Progressive Democrats - agree that keeping taxes low is more important than improving services.
These media articles all ignore the fact, of course, that the prosperity began to develop BEFORE taxes were slashed, and the evidence actually is that increased prosperity gave governments the room to cut taxes rather than tax cuts spurring a new prosperity.
The media dismiss this as left wing nonsense. What a surprise then to read Garret FitzGerald of all people in The Irish Times argue that it was "demographic good luck" that brought about the Celtic Tiger.
"More than half of the extraordinary improvement in Irish output per head in the 1990s was due to the happy chance that exactly at the moment 12 years ago when strong external demand suddenly emerged for Irish labour in Ireland, all our sources of labour supply were simultaneously approaching a peak," he wrote.
Garret, however, persists in attributing the favourable context to a policy of tax cuts, but in a wild surge of optimism he dates this back to 1956 and a long-forgotten Fine Gael-led Government at that time.
The fact that we had the best part of forty years of economic failure doesn't seem to upset his logic, but don't expect the media to query any of this. They only publish what suits them, and ignore what doesn't.
An Phoblacht Magazine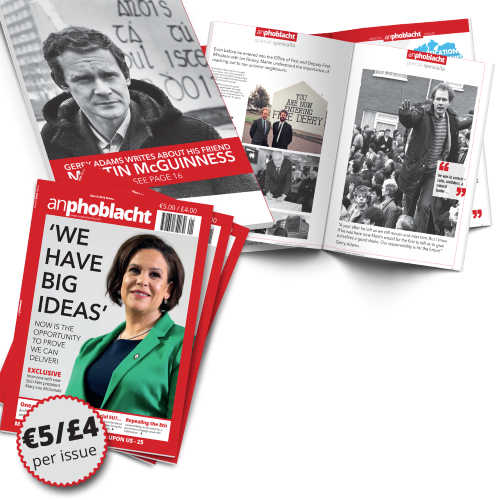 AN PHOBLACHT MAGAZINE:
The first edition of this new magazine will feature a 10 page special on the life and legacy of our leader Martin McGuinness to mark the first anniversary of his untimely passing.
It will include a personal reminiscence by Gerry Adams and contributions from the McGuinness family.
There will also be an exclusive interview with our new Uachtarán Mary Lou McDonald.
test