16 February 2006 Edition
The Matt Treacy Column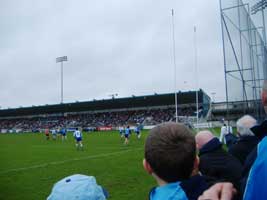 Focus on Olympic skiers!
Most sporting interest this week will focus on the performance of the four Irish representatives at the Winter Olympics in Turin. Alpine Ski Racers Kirsten McGarry and Thomas Foley, Cross-Country Skier Rory Morrish and Skeleton Bobsleigher David Connolly are flying the flag and I will chart with bated breath their progress from the team base at Sestriere.
Such is the Treacy family enthusiasm that myself and Ciara have been toboganning down Glasnevin Hill in an old steel bin most mornings, applauded by emotional bystanders recalling the daring exploits four years ago of Lord Clifton Wrottesley who narrowly missed winning a bronze medal in 2002. Hopes are high that Lord Clifton's achievement can be surpassed.
Okay, okay. I'm not actually in the Italian Alps. And the above was a pathetic attempt to avoid referring to the fact that Monaghan beat Dublin last Sunday in Parnell Park.
Meanwhile Beef or Salmon reinforced his right to be considered a serious Gold Cup contender with a facile success in the Hennessy at Leopardstown. ...No. I'll never get away with that either.
How the same Dublin team that beat Tyrone in Omagh, with the exception of Stephen Cluxton replacing Paul Copeland in goal, could surrender so tamely to Monaghan, themselves beaten at home by Fermanagh, would appear to be a mystery. Or at least it would if it were not for two factors: Firstly, a long and painful experience of the unpredictability of Dublin teams. And secondly, the sheer skill and determination of a young Monaghan side.
It is possible that Dublin were suffering from some sort of hangover from 'The Battle of Omagh' - as indeed Tyrone may also have been in the light of their defeat by Fermanagh - but that hardly explains what was a poor performance.
Dublin players looked tired and tentative and were rarely first to the ball in any sector of the pitch. Particularly noteworthy was Monaghan's dominance around the centre of the field where Eoin Lennon was brilliant, winning a pile of ball and setting up many of his team's attacks.
Hugh McElroy had a good game, scoring five points from play and from placed balls. He was also unfortunate perhaps not to have scored a goal in the second half when a fisted effort was foiled by Cluxton. Thomas Freeman scored the game's only goal before half time and added two more points from play. Another Monaghan player to note was Donal Morgan in the left corner back position but in truth it was a good all round performance and eases their concerns over relegation.
Division 1A looks unpredictable. Fermanagh and Mayo are the only teams with full points but both face tough matches following the resumption in March. Cork, who went down rather tamely in the end to Kerry last Saturday, and Tyrone, who were bested by their neighbours at Enniskillen, are the only teams with no points. Indeed there is a slight danger that Tyrone could enter the sub zero zone if the Central Disciplinary Committee decides to deduct points from themselves and Dublin but that appears less likely now.
In 1B Down and Derry are on full points following wins over Kildare and Wexford. Armagh, who appear to be experiencing something of a minor crisis, went down to a second successive defeat. Meath had seven points to spare over them at Navan and although it was not Armagh at full strength, Joe Kernan will perhaps be concerned that his options are somewhat limited both by the ageing profile of old stalwarts, and the apparent failure to find replacements. The fact that they are unlikely to qualify for the play-off stages will not help that cause.
Leitrim people (well one Leitrim person to be accurate) has been talking up to me their prospects for the coming year. That has been confirmed by some good performances in the FBD Connacht League and last week they were unlucky to have been held to a draw by Donegal at Ballyshannon. On Sunday they overcame Clare by seven points at Carrick.
Key to Leitrim's revival have been two Duignan's; Ciarán from the Fenagh club and Darren from Gortletteragh. Ciarán is emerging as a reliable free-taker and scorer of points from play, while Darren's speciality is to spring from the sub's bench to score goals. Gary McCloskey from Bornacoola is also rating prominently in dispatches.
Next weekend sees the beginning of the hurling leagues. Also up for decision are the All Ireland Senior Club semi-finals. Nemo Rangers take on St Galls while Salthill play Kilmacud Crokes. Nemo will be favourites to reach yet another final but St Galls could surprise again at lucrative odds.
For the first time, Croke Park will host the finals of the Intermediate and Junior Club Football Finals. Iniskeen of Monaghan meet Cahirlistrane of Galway. Both places are better known for their artists. The famous family of singers the Keanes hail from the Galway village while Paddy Kavanagh the poet came from Iniskeen.
Indeed Kavanagh played in goal for them, and was described once to a researcher as a "horrid fucking ejit" for having deserted the nets during a match in order to buy himself an ice cream or a bottle of lemonade. Apparently a goal was scored in his absence.
In the Junior Final another Galway team, Loughrea, with a number of the hurling Tierney brothers, take on Ardfert of the Kingdom. We are slightly biased here but will attempt to provide a neutral report next week. As always.