16 February 2006 Edition
Ryanair exposed
BY Aran Foley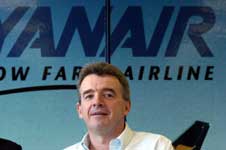 Irish airline Ryanair was at the centre of a storm this week over safety and working conditions following a damning television exposé of practices at the company.
Last Monday night's Channel 4 Dispatches programme outlined a catalogue of safety, security and customer service violations on the part of the 'yellow pack' airline, which has a disastrous record of industrial relations.
Two Channel 4 journalists worked undercover in Ryanair for six months secretly filming and recording.
The first stage of employee training consisted of a bizarre five-week course run by St James's Management for which each worker was obliged to pay £1,400.
Even in crucial areas like security awareness trainees were given the answers before they took the test. Aviation security expert Chris Yates was appalled saying this was not effective training for such a crucial area as safety and security.
Workers complained that during the whole of their training they were not actually allowed on a plane. "They got £98,000 out of all of us and still couldn't take a plane out of service for even one day," said one employee.
On her second day on duty one of the reporters was put in charge of boarding checks and noticed that ground staff had been letting passengers through without checking their passports. When she attempted to do so she was told she was taking too long.
All of these violations were a consequence of the airlines frenetic 25-minute turn around policy. As a consequence profit won all the time over safety. In the words of one employee: "If a plane is not in the air it's not making money."
Other shocking violations included people flying on temporary ID for months on end, without any security check. Security passes left lying around. Crew asleep due to over working and encouragement by management for crew to fake references. It was clear that these were some of the consequences of the 'plane not in the air not making money' philosophy of Ryanair. The implications for passenger and crew safety became obvious throughout the course of the documentary. Another disturbing feature of the documentary was evidence that Ryanair has a policy of not recording safety and other incidents which occur meaning their record can't be tracked.
The passenger pleading in vain with a Ryanair pilot for people to be given refreshments after a three-hour delay was a warning to all those who believe workers and consumers don't have common interests. He was told it was more than the pilot's job was worth.
What this documentary proved is that both customer service and customer safety are jeopardised when staff are under pressure and overworked. As the pilot put it himself: "Once you have paid for the ticket Ryanair doesn't give a shit. They take everything and give nothing."
The story of the pilot being demoted because he was too tired to fly was another glaring example of how staff conditions can have a direct bearing on the safety and well being of customers.