16 February 2006 Edition
Interview: Sacked Dunnes Stores shop steward Joanne Delaney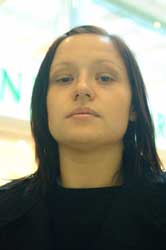 "They're afraid of people standing up for themselves"
Dunnes Stores worker Joanne Delaney is involved in a crucially important struggle for justice following her sacking by the supermarket chain for wearing a trade union badge. Working in Dunnes for the last four years and at Tesco for two years before that, she has a trade union background and her father is a shop steward with the Building Allied Trade Union (BATU).
Delaney was elected shop steward in the Ashleaf branch of Dunnes Stores in Crumlin on the southside of Dublin in August of last year.
Joanne spoke this week to An Phoblacht's Aran Foley about the background to her case which goes to the heart of workers rights and industrial relations procedure in Ireland.
On the issue of how her dismissal by Dunnes Stores arose Joanne Delaney explains that: "On 18 October I was told to take my union pin off and I refused and this has led to the situation now."
When asked if there was some written policy prohibiting the wearing of the union pin, she replies: "No there is nothing in the uniform policy that states that. I went for an informal meeting with my twin sister with management and they asked me why I was breaking company policy and when I was going to stop. I told them I was not breaking company policy and that there was nothing in the uniform code that stated the wearing of union pins was not allowed.
"I actually had my handbook with me and I put it on the table and asked them to point out where I was breaking company policy and they weren't able to do that. There were girls wearing other badges and they weren't asked to remove them until I refused to remove mine."
On the support she has received Joanne says: "There has been a Joanne Delaney Support Group set up to campaign on the issue there are about 20 people on the committee and we will be collecting for campaigning expenses, so hopefully people will support us. The union has been printing badges and literature and they have been helping me with my unfair dismissal case. I started that in December but it will be a good 27 weeks before anything happens there."
Ideally Joanne would like to get her job back but says she cannot see that happening now.
"I'd like to see Dunnes Stores recognise the right of unions to represent their workers. This is why I don't support partnership because what's the point? Dunnes Stores and the likes can come along to these talks and get what they want out of them - years ago they got the industrial relations act out of it - and then just walk away," she says.
"At the minute the only reason we're allowed to join a union is because it's against the law for us not to be. But we should have full union recognition. At the minute the girls are terrified over this issue. There's management bullying going on. I know it and I'm not afraid to say it. The shop steward before me always had her badge on and I had my badge on for two months and then all of a sudden there was a problem," says Delaney.
Joanne Delaney believes that it was the fact of increased union activity which prompted the move against her. "In my first few weeks as shop steward I approached everyone in the store and told them what their rights were. I recruited another 30 members for the union. Every time I got literature from the union I would approach management to ask them could I put it up on the notice board despite being turned down every time," she said.
"I would challenge management when they tried to make people work beyond their hours. I would go up to management and say those girls are only 16. You are obliged to let them go home now.
"Were trying to build the girl's confidence up to stand up to them because as I've said there is a lot of intimidation going on. Most of the girls are like me. They are on flexi-contract which involves 15.5 to 36 hours a week. If you step out of line the first thing they do is cut back your hours. Most of the girls I work with have at least two kids and they just can't afford to go from €350 a week to €150 a week," she says.
Delaney sees the action against her as part of a general increased hostility towards trade unions in Ireland as seen in the recent behaviour of Irish Ferries. "Their attitude now is 'it's my way or the highway'. People should understand though that the union is there to represent our interests. I know there are a lot of girls there who will support me once their confidence is built up but to those who don't care they should realise management will abuse them just as quick. That's the reason why they came after me because they're afraid of people standing up for themselves and they knew I wanted to strengthen the union. I was talking to Pat Rabbitte the other day and I said I believe you and SIPTU are affiliated could you not use your influence to call off partnership talks until this issue of union recognition is resolved? It was done in the case of Irish Ferries. Partnership talks should be called off if they can still get away with this."
An Phoblacht Magazine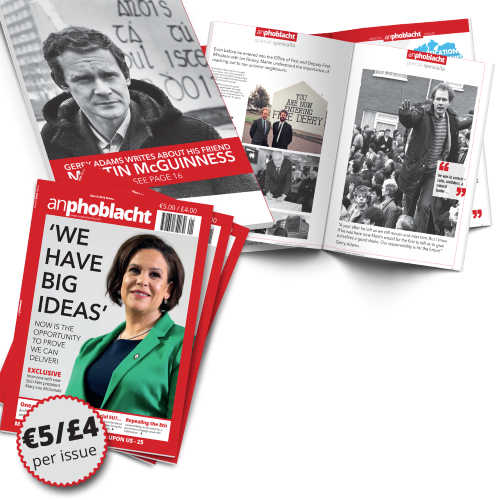 AN PHOBLACHT MAGAZINE:
The first edition of this new magazine will feature a 10 page special on the life and legacy of our leader Martin McGuinness to mark the first anniversary of his untimely passing.
It will include a personal reminiscence by Gerry Adams and contributions from the McGuinness family.
There will also be an exclusive interview with our new Uachtarán Mary Lou McDonald.
test