16 February 2006 Edition
Ahern's snub to Northern nationalists
Taoiseach Bertie Ahern's u-turn on representation in the Oireachtas for MPs from the Six Counties, announced in the Dáil Wednesday, is a disgrace.
The Taoiseach claimed that the reason for his volte face was that he could not get consensus on the issue from the parties in Leinster House. But the reality is that Ahern has either cravenly capitulated to the most partitionist elements in the Irish political system or he is responsible for a devious sleight of hand - actively preventing Northern representation for his own narrow political reasons while trying to pin the blame on others.
The announcement runs against the entire spirit of the all-Ireland promise of the Good Friday Agreement and is a direct snub to the nationalist population of the Six Counties
The Taoiseach has now jumped into the partitionist camps of Fine Gael, the PDs and Labour. Fine Gael and Labour have for some time now tried to have it both ways in relation to this issue. These were signatories to the original All-Party recommendations, but decided, once the proposition had the potential to become a reality, to actively work against it. The PDs have actively and publicly opposed the proposition for some time now.
In their clamour to exclude Sinn Féin however, the PDs, Labour and Fine Gael also abandoned what was their pet political project for years - the SDLP.
Many people have observed that the PD tail has wagged the Fianna Fáil dog in relation to a range of issues before and this seems to be the case now with policy on the North.
However, republicans and nationalists throughout Ireland, particularly in the Six Counties, will now ask the obvious question - is Fianna Fáil under Ahern more concerned with the rising tide of support for Sinn Féin throughout Ireland than with playing its part in building the new dispensation promised by the Agreement in 1998. Has Ahern joined McDowell in putting self-interest before justice and inclusivity on this island?
Powerful sections of the political elite in the 26 Counties spent the last 30-odd years denying Northern nationalists a voice in the body politic. The prospect of Northern nationalists addressing the Dáil, and cutting through the contrived and self-serving consensus that has been imposed for decades, is too much for many of them to bear.
The Good Friday Agreement bestowed an obligation on all who signed up to it to work for inclusivity on the island. It is impossible to see where last Wednesday's decision by the Taoiseach sits with that.
An Phoblacht Magazine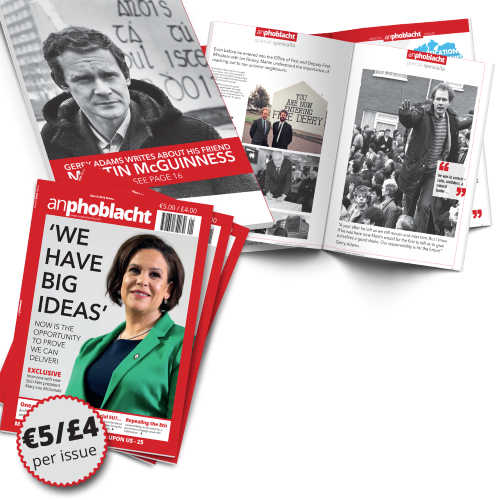 AN PHOBLACHT MAGAZINE:
The first edition of this new magazine will feature a 10 page special on the life and legacy of our leader Martin McGuinness to mark the first anniversary of his untimely passing.
It will include a personal reminiscence by Gerry Adams and contributions from the McGuinness family.
There will also be an exclusive interview with our new Uachtarán Mary Lou McDonald.
test