2 February 2006 Edition
Wrigley cave in not first environmental U-turn
BY ROBBIE SMYTH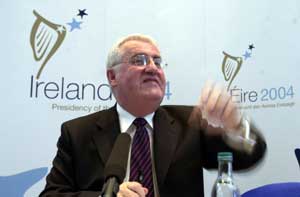 Environment - Roche's record challenged
Multinational firms Ikea, Indaver and Wrigley's have all now engineered u-turns in Dublin Government policy or legislation by lobbying of the Fianna Fail Government, particularly Environment Minister Dick Roche.
Ikea got Roche to lift the cap on the size of retail superstores. Indaver, who are building incinerators in Ringaskiddy and Carranstown County Meath got Roche to agree that the waste burnt in the Carranstown incinerator doesn't have to come exclusively from the Cavan, Louth, Meath and Monaghan region as agreed under its original licence while chewing gum manufacturer Wrigley's convinced Roche that he didn't need a tax on gum to help pay for the multi-million euro clean up costs.
WRIGLEY PRESSURE
The policy U-turn on a gum tax was taken despite the recommendations of a 2002 report that proposed it.
Faced with an annual gum clean up bill that runs to millions of Euro, €20 million according to one media estimate, Dick Roche has got chewing gum companies to contribute €2 million annually to "an information and educational campaign".
The tax would have netted €4 to €5 million annually.
Roche has admitted he was lobbied on behalf of Wrigley by the US ambassador.
SINN FÉIN CONCERNS
Sinn Féin Environment spokesperson Arthur told An Phoblacht he was very concerned about Roche's recent record in caving in to the demands of international business without any real public debate on the issues. "Maybe the Government could save more money by not commissioning any reports and just let international business tell us the right thing to do when taking these complex decisions", he said.
The Wrigley's decision has important international dimensions as the company is under pressure to pay the clean up costs of gum disposal and introduce biodegradable gum. Councils in Britain and the Six Counties are lobbying for taxes and new gum products.
The Dublin Government decision to act on plastic bags and workplace smoking bans had a beneficial effect in Ireland and also changed the debate on these issues internationally. It shows the importance of having a government that can take important decisions in the interests of its people.
INDAVER
Indaver is an important example of how u-turns unravel. Their original licence for the Carranstown incinerator was to dispose of waste from the north east region. 18 months of lobbying won them the right to enter other waste markets. Now Indaver has applied for planning permission to expand the size of the Carranstown incinerator by 33%. If granted will earn them an extra annual profit of €7.5 million.
IKEA SUPERSTORE
It is unclear what sort of profits Ikea will make from their Ballymun store and no doubt Ikea and minister Roche will point to the local employment such a store will create. It does not deal though with what displacement Ikea could generate in the Irish furniture industry or other issues such as the human rights issues of how its workers re treated internationally.
Finally while Roche was quick to respond to the needs of Irish business, he is still to keep a promise made before last year's Kildare and Meath by-elections that he would tackle the problem of unfinished housing estates, there are 19,000 homes affected in Kildare alone. Could it that the needs of the business environment outweigh the public's yet again?
Dick Roche's Record
• Wrigley €5 million tax replaced with €2 million information campaign
• Indaver - Rewriting waste licence allows €7.5 million extra profits
• Ikea - New store will fundamentally change retail sector and Irish furniture industry
• House builders - no action on unfinished estates