19 January 2006 Edition
Why are our young men killing themselves?
BY LAURA FRIEL
Poverty and gender significant factors in suicide rates
Poverty and gender have emerged as significant factors in the increasing rate of suicide in the North. A growing phenomenon of young working-class men taking their own lives has led to calls for a more pro-active approach to prevention.
Last year pressure from bereaved families, community groups and local politicians led to the establishment of a Suicide Taskforce. This emerged after Sinn Féin MP for West Belfast Gerry Adams met NIO Minister Shaun Woodward, together with community activists from both North and West Belfast last summer.
Increasing numbers of suicides, particularly those involving young people, had generated increasing public concern within the North and West Belfast. Last week the taskforce published its first report and although their research and consultation process is at an early stage, already specific patterns have emerged. The single most important factor in understanding high rates of suicide within a particular community is poverty. The suicide rate in deprived areas in the North is 75% greater than in non-deprived areas with North and West Belfast suffering the greatest rates of suicide and self-harm.
Rates of suicide in North (17.9%) and West Belfast (18.1%) are around twice the North's average annual rate of 9.8% per hundred thousand of the population, about 165 deaths a year. The suicide rate is also 27% greater in urban as compared to rural areas.
Over three quarters (79%) of all suicides are male. Suicide is the largest killer of males from non-disease related causes, including road traffic accidents. Suicide rates amongst men have increased twice by an alarming 13%, over two consecutive five-year periods.
In other words male suicide rates have increased by over a quarter (26%) in a decade. Suicide rates amongst women have remained fairly constant throughout the same period. Almost a third of all male deaths due to suicide involve young adults in their mid-20s to early 30s with 41% of all suicides being single men.
A number of significant themes and issues have emerged following pro-active engagement by the taskforce with bereaved families, community groups, local politicians and health care professionals.
Failures in the system both in preventing suicide and dealing with victims' families have been identified, including a lack of secure, long-term funding and resources, a lack of co-ordination between agencies and a difficulty in successfully engaging GPs and other health professionals on the issue.
Families of suicide victims highlighted the insensitivity and lack of response they had encountered following bereavement. Lack of co-ordination left grieving families with the task of negotiating through a series of separate agencies, including coroners, funeral directors and social security.
Community workers and families expressed concern at the increasing practice of proscribing anti-depressants to under-18s.
"All stakeholders agree that suicide is an issue for everyone and can not be tackled on a single agency basis but rather needs to be recognised as a major public health issue that requires support and co-ordination across our society including all sectors," says the report.
The taskforce hopes to promote a better understanding between the various stakeholders and create a consensus of understanding.
"Suicide is an emotive and sensitive subject and there is currently a lack of knowledge or consensus regarding the history of causation of suicide and the contributing factors which are most amenable to its prevention," say the report.
Although the taskforce identifies suicide as a mental health issue their research clearly highlights the structural nature of its prevalence within specific social conditions, most notably within communities that have suffered decades of deprivation, discrimination and marginalisation.
An Phoblacht Magazine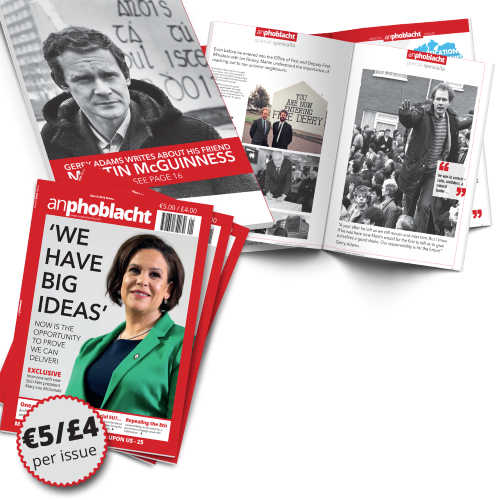 AN PHOBLACHT MAGAZINE:
The first edition of this new magazine will feature a 10 page special on the life and legacy of our leader Martin McGuinness to mark the first anniversary of his untimely passing.
It will include a personal reminiscence by Gerry Adams and contributions from the McGuinness family.
There will also be an exclusive interview with our new Uachtarán Mary Lou McDonald.
test