19 January 2006 Edition
Who is Sam Kinkaid?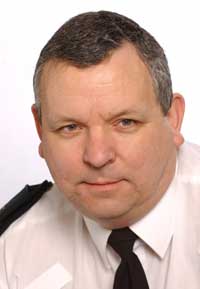 Kinkaid joined the RUC in 1980/'81 at the height of the H-Block and Armagh Protests which lead to the Hunger Strikes and deaths of ten republican prisoners.
He was appointed RUC Detective Superintendent with responsibility for all crime investigations in North Belfast and South Antrim. During his time in the North Belfast and South Antrim areas the unionist paramilitaries of both the UVF and UDA carried out numerous murders, targeting members of the nationalist community as well as Protestants.
Speculation is rife that Special Branch informers were behind a number of these killings and that they were protected by the RUC.
Among the killings were those of postal worker Daniel McColgan, killed by the UDA and Protestant Raymond McCord killed by the UVF.
Sam Kinkaid was transferred in 2001 to the 'North Region' which covers the Derry and North Antrim areas.
Since 2003 Kinkaid has headed up the PSNI's COD which has responsibility for intelligence gathering, including running of spies and informers. It also has responsibility for so-called 'Specialist Operations'.