19 January 2006 Edition
TV Reviews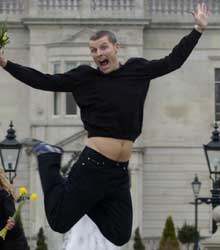 Less clichés and more connection please
BY SHANE MacTHOMÁIS
Joy in the Hood
'Des Bishop: Joy in the Hood'. Mondays, 9.30pm. RTÉ2.
Being a fan of The Des Bishop Work Experience, where Bishop provided an honest, often unpleasant, insight into an existence of anyone trying to exist on the bottom rung of the wage scale, I was looking forward to Joy in the Hood. The programme has Bishop travelling to six of the most deprived areas in Ireland and attempts to turn six locals into stand-up comedians
As a concept the show had the potential to demonstrate a real insight into the lives and communities of those untouched by the 'celtic tiger'. Using comedy as a medium to invite middle Ireland into these areas to deride some of the myths about them I thought Bishop had come up with something truly original.
Alas having seen two episodes I am unsure if Bishop has achieved my perhaps over ambitious expectations. The first show, filmed in Ballymun managed to cram just about every cliché into its 30-minute slot. We had piebald ponies, dirty lifts and objects thrown from balconies interspersed with comedy routines but very little exposure to any of the participants. As a viewer I felt that more camera time with the aspiring comics and less time reinforcing stereotypes would have made for a better show.
The second programme filmed in Knocknaheeny was a great improvement on the first. Here, Des showed a greater degree of connection with the community who welcomed him with gifts of mattresses and dance lessons. The episode left the viewer feeling that Des, his protégées and the community had done something special. Again sadly, there was little connection with the volunteers but this may be down to an absurdly allocated 30-minute timeframe. The Des Bishop Work Experience lasted 50 minutes and afforded enough time for some of the more subtle nuances of Bishop's humour and insights to be shown instead of competing with scenes of joyriding.
With two shows down and four to go it is perhaps premature to say whether Bishop has surpassed his previous outing. Thus far I think he has come up with a clever, entertaining and somewhat insightful programme, which has enriched and empowered the communities that allowed him into their midst.
The Ballymuners not content with being merely a novelty for the Montrose schedule, have begun there own Comedy Show in the Ballymun Access Centre where the hugely talented Willa White (one of Bishops volunteers) and others entertain crowds once a month. Proving as some clever person once said that Laughter is the closest distance between two people.
'Des Bishop: Joy in the Hood' runs over the next five Mondays on RTÉ2.
Snapshots of a Championship season
BY MATT TREACY
The Dubs: The Story of a Season
RTE 1 Monday.
I was glad I didn't keep Ciara up to see the programme about the Dubs. Besides being a school night, the language was a bit too 'earthy' for delicate ears. Mind you this is the same child who nearly had us banned from matches when she was four. We were watching the Cork Dublin league final on television when Ciara demanded that the referee "blow the effin whistle". Mammy was there and seemed to think that I was somehow at fault. I tried to persuade her that the Erin's Isle camogie nursery was no place for the faint-hearted.
Nor is the Dublin football team by all accounts. We were given some flavour of the rigorous training regime although I have yet to hear a plausible reason for the ice baths. Poor old Mark Vaughan and Paul Casey looked distinctly uncomfortable and I imagine the language was even earthier in the absence of cameras.
The camera captured many interesting snapshots of a championship season that ranged between the exhilaration of the Leinster final victory to the deathly atmosphere in the dressing room after the defeat by Tyrone in the replay. In between we had nail-biting climaxes and serious injuries that in one case finished Darren Homan's playing career, but which in Stephen O'Shaughnessy's case was overcome in an amazingly short period.
The key motif was the rebuilding of confidence and morale after the disappointments of 2003 and 2004. In those years the team had lost matches in a manner in which far worse Dublin teams never did. They appeared to give up. Probably Dave Billings summed it up best when he spoke about them "lying down for no man". Tradition was restored.
In his book Dessie Farrell defines that tradition as "defiance on the pitch, deference off it". It is about respect and non-arrogance and it shows in the attitudes of the players, as anyone who has had any contact with them will attest. A modest bunch of lads that you could safely bring home to your mother. Unless she happened to be wearing a Meath jersey.
It was interesting to see too that contrary to myth, Pillar (something to do with caterpillars apparently!) does not eff players out of it in the dressing room. Even when things are going bad, it is a reasonable man talking to intelligent adults. Pointing out weaknesses and encouraging greater effort. Not a man who is living out his ersatz fantasies through others.
And best of all, on that dark bright August day when the Dubs went down to a better Tyrone team there were no recriminations and no bawling out in the dressing room. They gathered in a circle and Pillar told them that he was proud of them. We all were.
An Phoblacht Magazine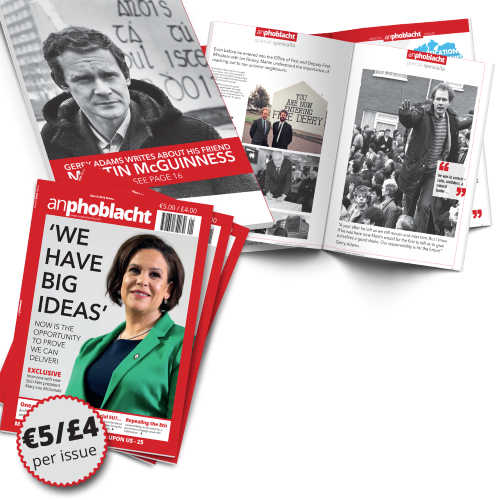 AN PHOBLACHT MAGAZINE:
The first edition of this new magazine will feature a 10 page special on the life and legacy of our leader Martin McGuinness to mark the first anniversary of his untimely passing.
It will include a personal reminiscence by Gerry Adams and contributions from the McGuinness family.
There will also be an exclusive interview with our new Uachtarán Mary Lou McDonald.
test