10 November 2005 Edition
Political Policing
The PSNI operation directed against members of the nationalist community in various parts of the North over the past week and the media manipulation that accompanied it, is driven by a clear political agenda.
High-profile raids and arrests in Tyrone, Down, Belfast and Derry were co-ordinated to ensure maximum media exposure.
The raids are being publicly linked to the Northern Bank robbery last December. This is repeatedly attributed to republicans by the PSNI and media. But to date no evidence supporting this has emerged. In fact the only banknotes to have been recovered from the robbery were found at a PSNI Social club.
Media briefings and the profiling of individuals underlines the political agenda. Republicans have seen all of this many times over the past three decades. As recently as last month, County Louth farmer Tom Murphy was the target of a similarly co-ordinated smear exercise with journalists swallowing a tissue of lies concocted by securocrats intent on pursuing a the tactics they have become addicted to over 30 years of conflicted.
What needs to be borne in mind is the harsh reality for those on the receiving end of securocrat machinations. Homes of innocent people have been violated in the most aggressive and sectarian manner and children have been traumatised by the heavy handed nature of the raids. Of course this reality was not emblazoned across newspapers or TV screens.
Several of those arrested in the recent raids have been released without charge. Some of the charges are patently ludicrous. It is inevitable that cases which result will collapse, but not of course in the blaze of publicity generated by the raids themselves.
This has been yet another political stunt by securocrats who oppose the Peace Process. They are not those of an accountable and acceptable policing service.
It demonstrates why policing in the North must be sorted out properly, once and for all. Partisan, political policing must be replaced by an accountable service as called for by the Patten Report. People deserve nothing less. Sinn Féin will accept nothing less.
An Phoblacht Magazine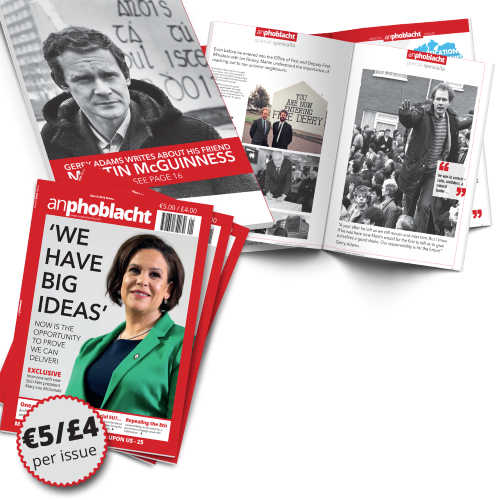 AN PHOBLACHT MAGAZINE:
The first edition of this new magazine will feature a 10 page special on the life and legacy of our leader Martin McGuinness to mark the first anniversary of his untimely passing.
It will include a personal reminiscence by Gerry Adams and contributions from the McGuinness family.
There will also be an exclusive interview with our new Uachtarán Mary Lou McDonald.
test