20 October 2005 Edition
Dúirt Siad...
They breed like rabbits and multiply like vermin.
Ian Paisley gives his view on Catholics after a loyalist rampage in Belfast, 1968, which saw many Catholics burned from their homes.
I am anti-Roman Catholic, but God being my judge, I love the poor dupes who are ground down under that system.
More compassion from the ranting Reverend in the '70s, spoken at a rally in Loughgall, County Armagh.
The Unionist Party are boasting he [Harold Smith] is a Jew. As a Jew, he rejects our Lord Jesus Christ, the New Testament, Protestant principles, the Glorious Reformation and the sanctity of the Lord's day. The Protestant throne and the Protestant constitution are nothing to him.
The DUP leader showed as much tolerance to the Unionist Party's Harold Smith, as he did to Northern Catholics.
(Blair) has already sold his birthright by marrying a Romanist. He would sell his soul to the devil himself. He is not loyal to his religion. He is a turncoat.
Robert Salters 1996. The then Grand Master of the Orange Order referring to Tony Blair.
Will it be to Irish democracy what the Volkischer Beobachter was to pre-WWII German democracy?
26-County Justice Minister Michael McDowell speaking before the launch of Daily Ireland last January, in his words, a "Nazi rag-sheet". Press Gazette, Thursday 20 January.
Fr Reid could not have wished for a more emphatic validation of his claims than the reaction of the Willie Frazer/Ian Óg wing of unionism. These are the unionists who cannot break free of the old habits of rage and contempt when confronted with articulate nationalism saying things they cannot bear to hear.
Jude Collins, Daily Ireland, Monday 17 October.
He's regarded as more militant than the DUP. From the signing of the Belfast Agreement, he has mounted one-man protests at Downing Street, the Dáil, Stormont and Sinn Féin offices. Last year, he was arrested at Leeds Castle.
Suzanne Breen paints her picture of human rights campaigner Fr Alex Reid. The Sunday Tribune, 16 October.
Fr Alex Reid is an old man, he hasn't had the best of health ... he has nothing to answer. He has done a good job.
Taoiseach Bertie Ahern. The Irish Examiner, Monday 17 October.
He recognised that you couldn't get rid of the British with conventional warfare methods. He devised a whole new structure, the ambush guerrilla tactics.
Fine Gael MEP Jim Higgins doesn't get irony. Higgins inadvertently voiced his approval of the IRA's modus operandi while speaking at the launch of his party's latest hare-brained publicity scheme — Collins 22. The party claims Michael Collins, the subject of a recent statue erected in Clonakilty, and countless films, has in fact been air-brushed out of history. Daily Ireland, Monday 17 October.
An Phoblacht Magazine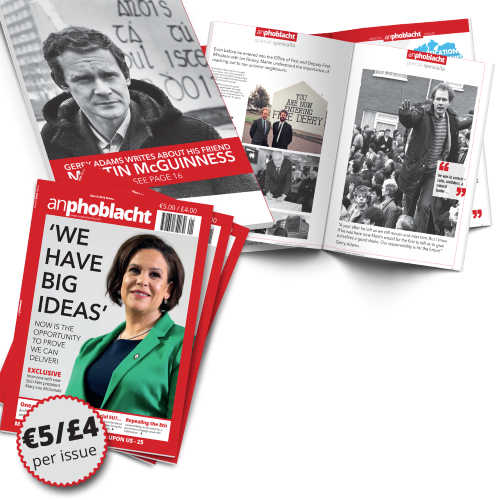 AN PHOBLACHT MAGAZINE:
The first edition of this new magazine will feature a 10 page special on the life and legacy of our leader Martin McGuinness to mark the first anniversary of his untimely passing.
It will include a personal reminiscence by Gerry Adams and contributions from the McGuinness family.
There will also be an exclusive interview with our new Uachtarán Mary Lou McDonald.
test