15 September 2005 Edition
Dúirt siad...
Duirt Siad
People in the greater Shankill were incensed at the prospect of Mary McAleese being able to freely roam around the area. Diane Dodds DUP Sunday Tribune 11 September
It is now up to political leaders to push for more concessions for loyalists Sammy Duddy, Ulster Political Research Group, a cover name for the UDA Daily Ireland 14 September
No police officers put it to me that the UVF were involved in putting Catholic families out of their homes in Ballymena David Ervine PUP Newstalk 106FM 14 September
As far as I am concerned the people to blame are the Secretary of State, the Chief Constable and the Parades Commission, fairly and squarely Dawson Bailie, Belfast County Grand Master of the Orange Order Daily Ireland 13 September
It was then the policemen moved between us but, rather than push the Orangemen back onto the street they pushed the residents further into the cul-de-sac. We had no protection whatsoever Nationalist resident of the Springfield Road Daily Ireland 12 September
This violence was completely organised Hugh Orde Chief Constable of the PSNI on the weekend of unionist rioting Daily Ireland 12 September
What happened was a huge effort to intimidate nationalist communities Dermot Ahern Minister for Foreign Affairs Irish News 12 September
Some people came out from over the wall and threw bricks at the car. They came through the windscreen and two windows at the driver's side. It must have been one of those bricks that hit him. He was screaming and there was lashings of blood and all I could do was keeping driving and hope I wasn't driving into anything worse Father of 22-month-old Caleb Moore, who was attacked by unionist rioters Irish News 13 September
They didn't realise at first that he had a fractured skull. It was only when they were stitching him up that they realised that he had a fractured skull Father of Caleb Moore Irish News, 13 September
An Phoblacht Magazine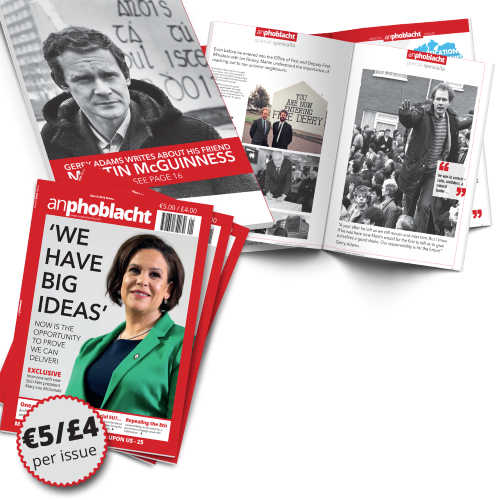 AN PHOBLACHT MAGAZINE:
The first edition of this new magazine will feature a 10 page special on the life and legacy of our leader Martin McGuinness to mark the first anniversary of his untimely passing.
It will include a personal reminiscence by Gerry Adams and contributions from the McGuinness family.
There will also be an exclusive interview with our new Uachtarán Mary Lou McDonald.
test