11 August 2005 Edition
Confessions of a Red Handed Dub
Now it's getting interesting! Thirty-three teams began the football championship; only six remain standing. While the qualifier system has produced some upsets and good matches, it is perhaps significant that the eight counties to reach the quarter-finals are, or were, all provincial finalists. The first semi-final will see a repeat of the Munster decider and it is possible that the second could be a re-run of either the Leinster or Ulster showdowns.
Last weekend saw the exit of Mayo, Derry, Monaghan and Galway. By far the best game was the one between Cork and Galway which was end-to-end stuff, played at a furious pace and genuinely enthralling for anyone without an emotional investment in the outcome. I had a small wager on Cork, which in true sporting spirit I attempted to renege on at half time. Galway appeared to have Cork on the back foot, but they survived the potentially lethal blow of two goals within a few minutes of each other to emerge not easy, but relatively comfortable winners.
Kevin O'Dwyer, the Cork goalkeeper deserves much of the credit for their victory. He was certainly culpable for the two goals scored by Michael Meehan, but it was O'Dwyer who the Cork players gathered around in a huddle prior to the second half, and it was clear that they had left any recriminations or self-doubt in the dressing room.
There was talk of having the Cork-Kerry match in either Páirc Ui Caoímh or Fitzgerald Stadium, Killarney, but that has been ruled out. Cork is the European City of Culture so there is no reason why it should not host other events worthy of its exalted standing. Of course there are those who claim that there is more culture to be found in a tub of yogurt but I don't hold with that view.
It will be interesting to see the old rivals getting to grips with one another and it will pose unique challenges for both. Kerry, buoyed by an early classic goal from Gooch, were never really troubled by Mayo. Ciarán McDonald and Austin O'Malley were good for the Connacht men and the team displayed a lot more fight than when they went down easily in last year's final.
It was amusing to see how quickly both Billy Morgan and Jack O'Connor were to claim that their respective teams basically don't have a hope but will probably turn up just to make up the numbers. Seriously though, the match will provide more of a challenge to Kerry having to try to overcome a team that they have already defeated, while Cork may have the psychological advantage of being underdogs no matter what Jack O'Connor might say!
On Saturday, Laois overcame Derry with a lot more ease than might appear evident from the three-point winning margin. It was a game not unlike the Leinster Final in that Laois found themselves facing a fairly large gap close to half time but over-ran the opposing defence in the first quarter of the second half. It will be interesting to see how they fare against Armagh.
Tyrone overcame Monaghan, having survived an early shock. Despite a Tomás Freeman goal, Monaghan were out-scored 2-12 to 0-2 in the last 50 minutes of the match. Monaghan will be relatively pleased with their year — Division Two champions and best run in the championship for many years. They have to be concerned, however, at the manner in which they faded physically in the second half.
Tyrone's win sets up a potential classic on Saturday with Dublin. Tyrone will see this as the chance to gain vengeance for 1995 when they felt that they were badly done by in the All-Ireland Final. Something to do with a ball not being picked off the ground, and Charlie Redmond forgetting that he had been sent off.
The two teams haven't met in the championship at senior level since then but have been closely matched in the National League. Tyrone won by four points at Omagh in February while Dublin shaded the corresponding game at Parnell Park last year. The best clue might come from Under-21. Dublin beat Tyrone in the 2003 final at Navan and four of the starting line on Saturday, Cullen, Brogan, Griffin and Keaney, played key roles in that victory. Tyrone that day had Cavanagh, McSweeney and McMahon. A number of other players are on the panel. It would take a brave person to put the mortgage on the outcome.
Time for a confession. I wore the Tyrone jersey once. I know, I know. You are all saying to yourselves that Matt is too much of a gentleman ever to have done such a thing. A bit like hearing that Mother Teresa was caught drinking after hours in the Celt on Talbot Street.
It all happened during the Tom Smith Tournament in Portlaoise in 1994. We were in the semi-final of that prestigious six-a-side and three or four of the team were from Tyrone, having been interned for their progressive views on the woman question and sending small boys up to clean chimneys. Apparently some philanthropist had donated a set of Red Hand jerseys which were presented to us on the day. My first reaction was "I'm not wearing that". To which the reply, from a certain former resident of Dungannon was: "You're not fit to wear the fucking thing."
We were narrowly ahead against a Kerry/Monaghan/ Dublin/Louth selection (you should need a licence for that sort of thing) when I was upended and broke my wrist. I believe that the Central Disciplinary Committee will be looking for Tommy Eccles in connection with the incident any day now. Actually I am convinced that it was a dead relative of mine who intervened from the Other Side to end the shame of a family member sporting anything other than the sky blue or blue and gold. Or it may have been Iggy Jones no longer able to bear the ignominy of the jersey being dragged through the mire.
Another time I broke a finger in a match. My next visitors asked me what had happened and visibly paled when I informed them that it had taken place during a "friendly" against the INLA. And you thought that Armagh and Tyrone was rough!
An Phoblacht Magazine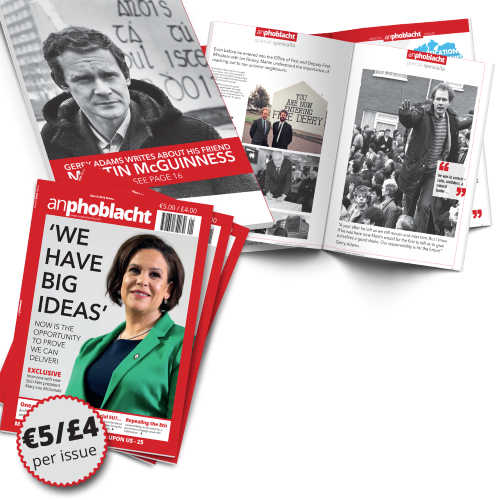 AN PHOBLACHT MAGAZINE:
The first edition of this new magazine will feature a 10 page special on the life and legacy of our leader Martin McGuinness to mark the first anniversary of his untimely passing.
It will include a personal reminiscence by Gerry Adams and contributions from the McGuinness family.
There will also be an exclusive interview with our new Uachtarán Mary Lou McDonald.
test