14 July 2005 Edition
Overdue biography of Galway revolutionary
BY Cathal O Murchu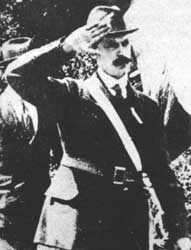 Léirmheas Leabhar
Supreme Sacrifice: The story of Éamonn Ceannt 1881-1916
William Henry
Mercier Press
Paperback E16.95
This is a timely biography on the life of a relatively not so well known revolutionary from County Galway, Éamonn Ceannt.
Ceannt, one of the signatories of the 1916 Proclamation was among the 15 revolutionary leaders who were subsequently executed for their role in the 1916 Rising. Curiously, he is the last of the leaders to have had a biography written about him, though this in itself does no justice to the very significant role that he played in bringing this event about.
The author is William Henry, a local historian from Galway City. He gives a narrative account of Ceannt's life, from his birhtplace in Ballymoe in east Galway to his involvement in the Rising.
Ceannt was born in 1881, the son of an RIC man in Ballymoe. His family moved to Ardee in County Louth where his father was stationed and he attended the De La Salle school in Drogheda, before his family relocated to Drumcondra in Dublin. Ceannt became involved in nationalist circles through his involvement with the Gaelic League, where he became a very competent uileann piper as well as playing other instruments. He also became a fluent Irish speak and quickly gained a reputation as a first class teacher and was much in demand. He met his future wife Frances O'Brennan in 1901, who herself was an ardent republican of Fenian background. She appears to have been the single biggest influence on his later political development.
In 1907 Ceannt joined Sinn Féin and was involved in anti-monarchist demonstartions during the visit of King George V in 1911. In December 1912, he crossed the political rubicon and joined the IRB, the organisation that would be vital to the planning and launch of the 1916 Rising. He joined the Irish Volunteers as part of the strategy by the IRB to take over this new militant movement and he played a vital part in the events leading up to the Rising and the Rising itself.
BY CATHAL O MURCHú
An Phoblacht Magazine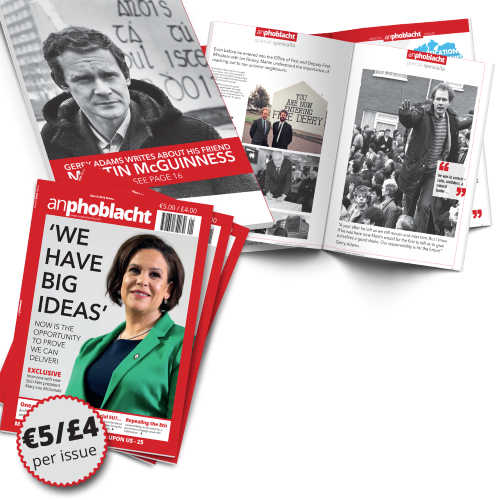 AN PHOBLACHT MAGAZINE:
The first edition of this new magazine will feature a 10 page special on the life and legacy of our leader Martin McGuinness to mark the first anniversary of his untimely passing.
It will include a personal reminiscence by Gerry Adams and contributions from the McGuinness family.
There will also be an exclusive interview with our new Uachtarán Mary Lou McDonald.
test