14 July 2005 Edition
The trials of Sisyphus and the goal that wasn't
After the match on Sunday I don't think Tyrone supporters knew whether to be happy or distraught. Like Sisyphus, they had managed to roll the gigantic boulder to the top of the hill, only to see it tumble past them just as they attained the summit. Now they will have to return on July 23 and start to push it all the way back again. There were two schools of thought on that among Tyrone folk although I noticed that their confidence grew the longer Sunday night went on. Armagh people were relieved and maybe slightly more confident that they will prevail in the replay.
The attendance of over 60,000 vindicated the Ulster Council's decision to come to Dublin again. It was a largely partisan crowd which, despite the nonsense put out by one of the flagships of the gutter press, impeccably observed the minute's silence for the victims of the London bombings.
The game itself began nervously and it wasn't until the ninth minute that Stephen O'Neill scored the opening point. That was the first of ten in a performance that rightly earned him Man of the Match.
Seán Kavanagh had a great chance of a goal when he bore down on the Armagh defence from midfield only to blast the ball wide. It is not often that you see Armagh looking jittery but they were finding it hard to settle and it was a full 23 minutes before they managed to get their first point. Tyrone were enjoying the bulk of possession but even the few attacks that Armagh did mange to launch were being soaked up by a confident and composed Tyrone back line, among whom Lawn and McMenamin were particularly impressive.
Paddy McKeever replaced O'Rourke after 25 minutes and Armagh must have been reasonably happy to have gone into half time only two points down, although it might have been more had O'Neill gone for the net instead of taking his fifth point. Goals are hard come by in Ulster finals and Tyrone may regret not taking at least one of the two chances they had in the opening half. Instead it was Joe Kernan's men who showed the sharper instinct in that department.
Armagh should have been awarded their first goal after Aaron Kernan miskicked a short free that dropped into the hands of Tyrone goals man John Devine. Devine had been standing in the back of the net, expecting - as I'm sure Kernan was too - to see the ball drop safely over the bar. Devine caught the ball but he was well behind his line. I debated this at length afterwards with some Tyrone people but they were strangely reluctant to admit the evidence of their own eyes, and of the TV camera. Not like Tyrone people.
The goal that was not reminds me of a story concerning an uncle of mine who was umpiring a Dublin championship match. He was suspended at the time but was determined to use his official role in whatever capacity he could in the service of his own club who were playing. Anyway, one of the opposition forwards bore down on the goal and blasted a ball that hit the back stanchion of the net but rebounded like a bullet back onto the pitch. The green flag remained undisturbed and the uncle was inscrutable. He was approached by the aggrieved player who pleaded with him. "Jaysus Matt, that was the best goal I ever scored". "Au contraire", says the uncle, "it was the best goal you never scored".
In fairness to Armagh, they didn't make a fuss about it. I did think that Steven McDonnell, who was the main protesting voice, looked a bit discomfited, an impression strengthened when he missed an easy free shortly afterwards. He quickly dispelled that when he was central to Armagh's first goal. McDonnell's shot was saved at point blank by Devine only to be gathered by Oisín McConville and despatched with efficiency.
Tyrone, if anything, upped their game after this and again stretched into a four-point lead. For a team that has almost become a byword for supreme fitness and endurance it was Armagh who appeared to be feeling the pace and it would have taken a brave layer to have opposed Micky Harte's team as the match entered its final minutes.
Then the McConville and McDonnell combination struck again. What might be termed a speculative lob from Oisín was gathered tenaciously by McDonnell who for once got the better of Shane Sweeney and netted. Now it was Tyrone who looked glued to the ground. Devine's kick-out was won by McGeeney who transferred the ball to Paul McGrane who scored his only point of the match. A drawn game.
McGeeney was again the hero when blocking an attempted shot by Seán Kavanagh. The last action of the day was a scramble in the Armagh square. Paul Hearty emerged with the ball but appeared to have been legitimately shouldered over the end line by Mark Harte to earn Tyrone a 45. McEneany decided otherwise and that was that. Poetic licence, perhaps, for the goal that was denied earlier. Mind you, you would have had to fancy O'Neill to have put over the 45.
Mayo surrendered their Connacht title to a much hungrier Galway team who seem to be striking the right balance between the veterans of 2001 and the graduates of this years Under-21 All Ireland winning team. Teams who can preserve the nucleus of previous All Ireland winning sides and come back replenished with new blood have a good track record. Dublin 1983, Kerry 1984, and Down 1994 spring to mind.
Before the Connacht Final thousands of signatures were collected outside Pearse Stadium in support of the Rossport Five. Support was also evident apparently in tee-shirts and banners around the place. That is one contest that we all hope Mayo win.
An Phoblacht Magazine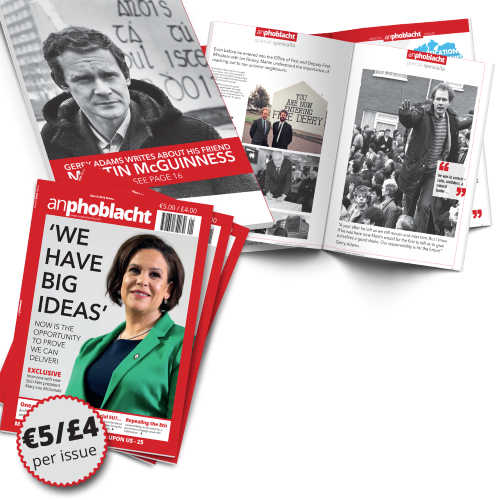 AN PHOBLACHT MAGAZINE:
The first edition of this new magazine will feature a 10 page special on the life and legacy of our leader Martin McGuinness to mark the first anniversary of his untimely passing.
It will include a personal reminiscence by Gerry Adams and contributions from the McGuinness family.
There will also be an exclusive interview with our new Uachtarán Mary Lou McDonald.
test