14 July 2005 Edition
Using political strength to effect change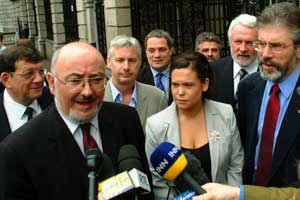 The continued growth of Sinn Féin across the island has presented new challenges for the party. Its reresentatives are moving into positions of political strength, particularly at local government level, where a number of local autorities have Sinn Féin Cathaoirlaigh or Mayors or where the party is now the dominant political force within council chambers.
Sinn Féin's National Elected Representatives Forum (NERF) was established with the aim of co-ordinating the work of the party's ever-growing number of elected representatives in councils North and South, in Leinster House, The Six County Assembly and the EU Parliament.
NERF Chairperson, Meath County Councillor Joe Reilly, recently spoke to An Phoblacht about the workings of the Forum and what role he wished to see it perform for the party and its reperesentatives in the time ahead.
"Sinn Féin is now taking up positions across the Six and 26 Counties which put us into a situation where we have some degree of political power. That raises new challenges for a party such as Sinn Féin. We need to ensure that such positions of political power are used to bring about change. As republicans we are not there to serve time or to service the system. There is a huge onus on Sinn Féin reperesentatives to use political strength for the benefit of the people and to push forward the momentum for change, whether that is political progress towards a united Ireland or whether it is real, tangible change in the social and economic sphere.
"We now have 252 Councillors across the island aswell as 24 MLAs in the North, 5 TDs, 4 MPs, 2 MEPs and one member of Udaras na Gaeltachta. It is a measure of the remarkable progress that Sinn Féin has made over recent years when you think that 20 years ago we had ony one solitary Councillor in the Six Counties. That very obvious and measurable achievement is a testament to the success of the current republican political strategy and where all of that has brought us. But it is also a testament to the sheer hard work of our activists on the ground.
"We are now in the position of having Sinn Féin mayors in various parts of the country. We are chairing Strategic Policy Committees (SPCs) at a local level. Our members are on Vocational Education Committees. This puts us in a position of reponsibility and indeed opens up opportunities for purusing the Sinn Féin agenda for change in a real and measurable way. This is where a body such as the NERF is crucial.
"I was appointed Chairperson of Sinn Féin's National Elected Representatives Forum two-and-a-half years ago. While our elected representatives may be familiar with the operation of the Forum, its work would not be something that our general membership is very au fait with.
"It is vitally important that there is a mechanism by which we can maximise our cohesiveness in pursuing the aims I have mentioned. Through the NERF our elected representatives are accountable. They are also supported on a number of levels. They are assisted in gaining experience and know-how from their colleages around the country and we can thrash out issues that are coming up at any of the institutional levels and agree on the way forward for pursuing republican objectives in all the bodies to which our members are elected.
"The Forum meets on a monthly basis. It has a democratic structure. It elects its own Chairperson, Vice Chair and Secretary at its annual conference. The Chairperson and Vice Chair represent the Forum at Sinn Féin Ard Chomhairle meetings. Currently that is myself, Francie Molly MLA and Mayor of Dungannon, and Monaghan County Councillor Matt Carthy.
"The Forum has an executive of 15 members. Sinn Féin Cúigí representing Dublin, the Six Counties, Connnacht/Ulster, Leinster and Munster nominate three members each.
"Something which will form a major part of our work in the time ahead is the issue of Local Authority budgets which are due in the Six Counties in April and in the 26 Counties in Novemeber. Our reperesentatives will be trying to maximise budgets for the use of their communities."
"Sinn Féin is now in the position of of having enough Councillors and TDs to be an important player in elections to the Seanad. The Seanad is elected by Councillors, TDs and some of the universities. We have major issues with the nature of the Seanad and Seanad elections and the democratic defecit and elitism involved. But we do intend to use our influence in that election. It provides another opprtunity to push our agenda for equality and for political change and Irish unity. I should point out very clearly here that only those Senators who respond positively to that agenda would even be considered for support.
"In other areas of work we have a spatial strategy group which is attempting to bring a focus to advancing change and progress at a regional level. It is aimed at going beyond council or county boundaries which is often very necessary. In this regard it has a lot of potential for cross-border work.
"The NERF is very conscious of the party's all-Ireland agenda. We area a 32-County body and take a 32-County approach. The Forum has been tasked with responsibility for co-ordinating the submission of Council motions in support of Sinn Féin's Green paper for Irish Unity.
"At another level, that of policy formulation we can have a vuital contribution. We are inviting councillors to bring forward ideas around possible gaps in Sinn Féin policy at a local level and how we can address that. Whatever proposals come from that discussion can be progerssed through a motion to the next Sinn Féin Ard Fheis. This means that our councillors have a very direct input into the formulation of party policy. It means policy is being informed by those at the coalface.
"In October/ Novemeber there will be a delegation of Councillors to the EU parliament where they will attend a meeting in Starsbourg with a Euro-wide councillors group which is attached to the United Left/Nordic Green Left group who are our affiliates in the Parliament."
The National Elected Representatives Forum will hold a national conference in early February in advance of the Ard Fheis on 3 March.
An Phoblacht Magazine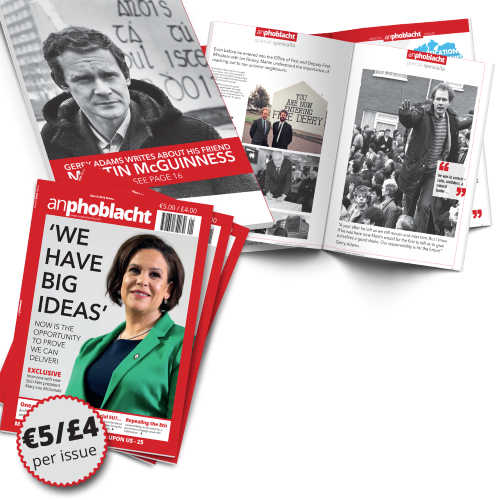 AN PHOBLACHT MAGAZINE:
The first edition of this new magazine will feature a 10 page special on the life and legacy of our leader Martin McGuinness to mark the first anniversary of his untimely passing.
It will include a personal reminiscence by Gerry Adams and contributions from the McGuinness family.
There will also be an exclusive interview with our new Uachtarán Mary Lou McDonald.
test