14 July 2005 Edition
Lessons for Ireland in devastating Shell report
BY ROISIN DE ROSA
A devastating new report has been published as part of a week of action in Holland and England coinciding with Shell shareholder meetings.
The report, published on 25 June is dedicated to human rights and environmental activist Ken Saro Wiwa and opens with Saro Wiwa's last words before he was hanged with eight other activists on 10 November 1995 for their protests against Shell's dirty practices in Ogoniland.
This report documents the constant environmental pollution and injustice caused by Royal Dutch Shell during 2004. Although Shell proclaims itself to be a "progressive" energy company following changes to the way it conducts its operations, the title of this new report, Lessons not Learned say it all.
The report, produced by Friends of the Earth and those communities living with the impact of Shell operations, reviews nine cases of damage inflicted upon people and the environment by Shell activities. These include the Niger Delta (Nigeria), Durban (South Africa), Sao Paolo (Brazil), Sakhalin (Russian Federation), Pandacan (Philipines), Curacao (Netherlands Antilles), Port Arthur (Texas, USA), Norco (Louisiana, USA), and County Mayo (Ireland).
Ireland has the dubious honour of featuring in the report thanks to the Dublin government's incompetence and dereliction of duty to its citizens by allowing a a huge multinational to have its own way here.
The call by Tony Juniper and Vera Dalm, directors of Friends of the Earth in Britain and the Netherlands, "for governments to act to hold Shell responsible" has clearly fallen on deaf ears in government buildings. This is despite the fact that "from Nigeria to Texas, the Philippines to South Africa, Shell is failing to respect the environment or the needs of local communities".
"Shell has demonstrated that it does not plan to make meaningful change in this area", warm Juniper and Daout how between 1976 and 1980 there were 784 oil spills "from Shell malfunctioning operations".
There is also a big question mark over the effectiveness of Shell's cleaning operations. The report explains how, during a visit in April 2005, Friends of the Earth encountered a Shell contractor involved in a "clean up" operation near Rukpopkwu, a community affected by a spill in December 2004: "The clean up involved little more that the turning of the land, placing the oil just below the surface", describes the report.
MOSOP also reported that the Nigerian police are instigating violence in Ogoniland, including kidnapping and assaults involving machetes. MOSOP consider this as part of an orchestrated campaign of intimidation to reinstate Shell operations in Ogoniland.
Another area of concern is gas flaring. We all have become accustomed to the ugly images of African landscapes with naked flames coming out of pipes. That's gas flaring. It takes place in Nigeria 24 hours a day, producing deafening noise and pollution. Gas flaring stopped in Ogoniland in 1993, and the communities feel that this has improved their situation greatly. However, it is still taking place in many other areas of Nigeria, and although Shell has committed itself publicly to eliminate this practice in the Niger Delta by 2008, is now publicly stating that "it may miss the deadline" and it has actually increased gas flaring since 2003. And even though it could be sanctioned by Nigeria's government, Shell will disregard such penalties, as it did with the 1.5 billion USD that the company was asked to pay in restitution for its extensive environmental damage in Nigeria.
South Africa: "poor record of polluting communities"
In South Africa, the report documents the case of the country's largest oil refinery, a join venture between Shell and British Petroleum (BP), and known as the South African Petroleum Refinery (SAPREF). Those living close to the plant, "live in fear of the explosions, pipeline leaks, and fires that occur regularly at this refinery", which "has a poor record of polluting communities, injuring workers, misleading the public and withholding information".
After years of lobbying, South Durban Community Environmental Alliance (SDVEA) and GroundWork (Friends of the Earth in South Africa) managed to get Lord Oxburgh, current Chair of the Shell Transport and Trading Company's Board of Director, to travel to Durban. He arrived on 5 March 2005 to fulfil a promise he made to the Director of SDCEA during the company's AGM in London in 2004.
However, his visit did not to comply with all his prior commitments, as Shell notified SDCEA and Groundwork that he would not travel to the neighbourhoods or meet local residents.
Shell organised an hour-long meeting on the refinery plant. However, over 40 residents, a journalist and two photographers decided to attend. After the NGOs presentations, Lord Oxburgh admitted that the SAPREF refinery is "ageing and needed attention". At the time he stated the company's concern for community health. He promised that he would bring their concerns to the Board of Directors but, as the report documents: "to date, Lord Oxburgh has failed to report anything back to the South Durban Community".
Brazil: workers document cases of cancer
Everything is not samba and carnival in Brazil, at least not for the workers and neighbours of Shell's facilities at Vila Carioca and Paulinia in the state of Sao Paulo.
In January 2005, Shell was compelled to submit to governmental orders requiring it to abstain from its practice of dumping and burying toxic waste. It was also told to clean contaminated areas and to monitor levels of toxic chemical and heavy metals in artisan wells, and remove high concentrations of harmful substances detected in the wells.
"In addition, Shell was required to take steps to protect workers health, including providing medical examinations for hundreds of former and current workers. Local newspaper accounts of former Shell workers document cases of cancer, neurological disorders and kidney and intestinal damage". Other severe health problems have been linked to Shell's production of pesticides and storage of oil products at these facilities.
Shell's response was inaction. The multinational has avoided responsibiliy for providing workers with necessary medical examinations nor has it guaranteed treatment for conditions discovered as result of examinations.
Russia: "threat of a catastrophic oil spill"
Sakhalin Island forms part of Russia, though located to the north of Hokkaido, Japan. The economic mainstay of the Island's indigenous people and local communities are rich fisheries of crab, herring, cod and wild salmon. Waters off shore from Sakhal include 25 marine mammal species, a11 of which are threatened, including the critically endangered Western Grey Whale, with a population of just over 100 individuals.
However, Sakhalin Energy Investment Company Ltd., led by Shell is building the world's largest single integrated oil and gas production facility. The report says: "The project threatens the marine environment with off shore-platforms and sub-sea pipelines adjacent to the Western Grey Whale's only known feeding habitat. The project also includes two 800 kilometre pipelines that will cross over 1000 watercourses, with pipelines trenched across the bottoms of hundreds of wild salmon spawning streams and tributaries". It further states that: "the "project also poses the threat of a catastrophic oil spill, not unlike the disastrous Exxon Valdez oil tanker spill in Alaska".
During January 2005, over 200 members of Sakhalin Island's Nivkh, Uilta, Nanai and Evenk peoples endured minus-30 degree Celsius temperatures for five days in order to blockade Shell's projects. The people stopped the projects to demand protection of their native fisheries, reindeer pastures, and their livelihoods from the growing dangers of irresponsible oil and gas production.
Philippines: "high levels of chemical gases"
Odours and fumes emanating from the oil depot are a continual source of complaints from Pandacan residents in Manila, Philippines. And as, the Lessons not Learned report points out:"Shell has evaded citizens' demands to remove its hazardous oil depot from the densely populated neighbourhood of Pandacan for many years". Some 84,000 people live in Pandacan, where there are concerns about the enormous health and safety threats of accidents or a terrorist attack on the oil depot.
Once again, re showed the presence of toxic emissions at their highest concentrations when trucks are being loaded with fuels and oil products at the oil depot, and when trucks are idling. The air monitor also revealed high levels of chemical gases in the air near drains located in a recently created oil depot buffer zone that has recreational facilities for children.
"The Antillean government? We are the government!"
Again it seems that despite huge profits, Shell management are remiss when it comes to updating the company's infrastructure even on its own territories. The island of Curaçao, still under Dutch control, suffers from a Shell refinery which was declared obsolete in 1982. In 1985, Shell sold the refinery for 1 USD to the Netherlands Antilles government, pressuring the government to accept terms that would absolve Shell from any responsibility for the environmental and health damage created by its operations.
"Residents of Curaçao, who are outraged by the environmental mess that Shell has left behind, organised the Humane Care Foundation Curaçao in 2003. Their painstaking efforts have exposed the toxic legacy created by Shell. Islanders have suffered decades of respiratory problems and other serious health ailments associated with refinery pollution. The 20-kilometer reef that surrounds this small island is contaminated with oil waste. For years, Shell dumped toxic wastes in Asphalt Lake and Schottegat Bay, which have polluted the Caribbean Sea", states the report.
Although Shell claims that it has no involvement in the Curaçao oil refinery, the company has maintained close ties. A Shell drilling structure was installed off the coast of Curaçao during the late 1990s and Petroleos de Venezuela Sociedad Anonima (PdVSA), the company that leased Shell's former oil refinery from the Netherlands Antilles government, developed a joint project with Shonditions and respiratory problems, compared to 30% of people who do not live near an oil refinery.
However, according to the report Motiva oil refinery continues to emit massive quantities of toxins that are known to damage the human cardiovascular and respiratory systems. Fatalities among workers make Shell facilities, including Motiva, among the most dangerous in the United States.
It is relevant here to remember the close ties between the current US government and the oil business. So far, legislation in relation to this issue lax, and Motiva has taken advantage of it. U.S. environmental regulations allow the refinery to exceed pollution limits whenever a malfunction occurs. Shell has used this exemption to ignore corrective measures that can prevent refinery malfunctions. But according to the report this year Motiva has breached even these lax environmental laws. On 14 April 2005, the Texas State Government penalised Motiva for failing to prevent unauthorized emissions, failing to properly operate pollution control equipment, failing to properly submit initial notification for reportable emission events, and failing to properly submit final reports for emission events.
On the banks of the Mississippi River in Louisiana, Norco is home to a large Shell oil refinery (now a joint venture also called also) and a Shell chemical facility.
Norco is located in "Cancer Alley", a 136 Kilometre span of the Mississippi River where over 130 refineries and petrochemical facilities operate in very close proximity to communities. The Norco neighbourhood of Diamond, where closeknit African American families have lived since the 1700s, is locked between the two Shell facilities.
Several years of persistent advocacy by Diamond residents, organized as Concerned Citizens of Norco (CCN), achieved an unprecedented victory in 2002. CCN successfully compelled Shell to meet the community's demands for a fair and just relocation and a reduction in the pollution from its facilities. "This was a bittersweet victory for residents, who had to leave their historic community to find a healthy place to live", explains the report, that continues stating that even though it facilitated the relocation: "Shell has not acknowledged any of the potential health impacts of its operations."
It is clear that profit, not the w
An Phoblacht Magazine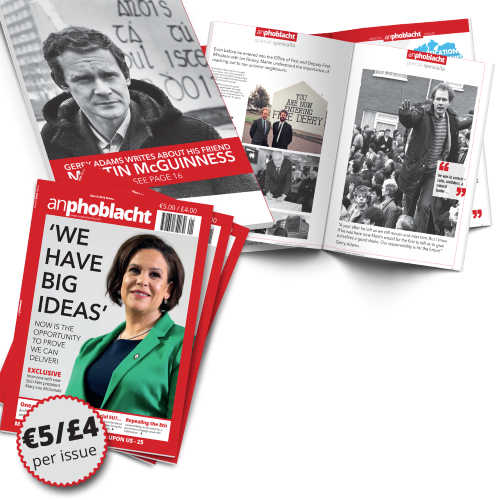 AN PHOBLACHT MAGAZINE:
The first edition of this new magazine will feature a 10 page special on the life and legacy of our leader Martin McGuinness to mark the first anniversary of his untimely passing.
It will include a personal reminiscence by Gerry Adams and contributions from the McGuinness family.
There will also be an exclusive interview with our new Uachtarán Mary Lou McDonald.
test