30 June 2005 Edition
Black Mountain conservation victory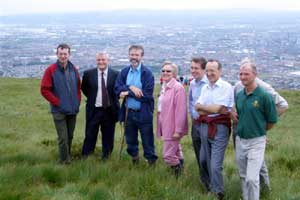 Sinn Féin President Gerry Adams was among several dozen people who turned up on Monday morning for the official opening of the Divis and Black Mountains as a conservation area under the ownership of the National Trust.
Along with local community organisations and environmental campaigners Sinn Féin has worked for many years for the conservation of the Belfast Hills, including Divis Mountain and Black Mountain. Because of the British Army's use of large parts of this land Gerry Adams raised this matter some years ago directly with the British Prime Minister Tony Blair and Sinn Féin has supported the efforts by the National Trust to secure funding for the Lottery Fund to purchase the land.
Speaking after the opening, Adams said:
"There is more work to be done to secure the conservation of the rest of Divis Mountain, Black Mountain and the Belfast Hills. Sinn Féin has proposed that this area should be developed into a regional park. However, the quarry on Black Mountain and the retention of military surveillance camps on top of the mountains is an obstacle to the development and conservation of the area. The campaign to achieve this and to protect this valuable environmental asset for this and future generations will continue."