2 June 2005 Edition
ASBOs - A cranks' charter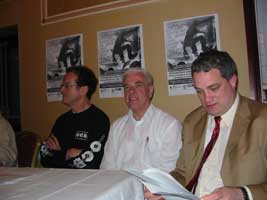 Outrage at the latest McDowell plans
Minister McDowell's latest notion is to extend Anti-Social Behaviour Orders (ASBOs), which Tony Blair's government introduced in Britain seven years ago, to the 26 Counties. Typically, the promised legislation extends to just one line, announcing the intention to do this. No detail has been given, except of course a succession of hints dropped and ministerial press statements that the legislation will be similar to the scheme in Britain, and that it will be an indispensable weapon in the control of anti-social behaviour.
Without any consultation, the Minister has threatened to 'pass' the necessary amendments to existing legislation before the summer recess, in three weeks' time. ROISIN DE ROSA investigates.
What are ABSOs?
An ABSO directs by court order a person to desist from specified anti-social behaviour. In Britain, if the person breaches this order, it then becomes a criminal matter and the person may be arrested, and imprisoned for up to five years, and/or a fine administered on the spot.
'Anti-social' behaviour is defined as that "likely to cause harassment, alarm or distress". It covers anything from playing football, being sarcastic, protesting your rights, playing music, wearing particular clothes, making jokes, or just being in a place where people don't happen to like you, or the colour of your skin.
But that is not all.
To secure an ABSO in Britain or the Six Counties, a person must request an ASBO, through a landlord, local authority, or individually, through the police, to civil court proceedings, where no evidence need be given as to the anti-social nature or even fact of the behaviour. The 'witness' or 'complainant' to the behaviour is not required to stand over their allegation, or even give sworn evidence in support, or be cross examined.
ABSOs may then be granted on the basis of anonymous, unsubstantiated, 'statements', with no legal standing, that don't have to be contested, or defended in a court. The 'witness' complainant does not need to be present or even to give his/her name.
But once breached the ABSO then becomes a criminal matter and the breach of the order becomes grounds for imprisonment for behaviour, which was never criminal in the first place. Due process is denied.
Examples of ABSOs in England have been widely quoted: Demonstrators at a Defence Systems Equipment Exhibition were barred from the area; protestors from the Palestine Solidarity Campaign who refused to give their names at the demonstration were detained under the Anti Social Behaviour Act; a 27-year-old woman was put on an ABSO because it was alleged she walked around her home in her underclothes; a young man who put up a joke on his website was handed an ABSO, and so on.
According to the British Youth Justice Board, about 50 children per month are being incarcerated for breaches of these orders in Britain.
Organising against the Orders
An impressive panel of speakers addressed a meeting called jointly by the Union of Students in Ireland, Labour Youth, Ógra Shinn Féin, the SWP, UCD Students' Union, the Communist Party of Ireland, the Green Party, the Union of Secondary School Students and Hot Press magazine, on Monday in Dublin, on the issue of ABSOs.
Fr Peter McVerry, a longtime campaigner who has worked long and hard for the rights of disadvantaged young people in the inner city, outlined clearly the case against ABSOs.
"ABSOs don't work to deal with a real problem in our society; we have better ways, and much legislation in place already to deal with anti-social behaviour, most of which are not implemented because of lack of resources. Such legislation takes on a life of its own which leads to widespread abuse of civil rights in our society, and instils anti-community, even racist attitudes, amongst neighbours."
Two young people, based in Clondalkin, articulated clearly the effects of ABSOs on young people. Their argument was that the government is taking money away from helping young people, and spending it on punishing them. It costs €250,000 to detain a person in jail per annum, they pointed out. There aren't leisure facilities for young people, which they can afford, so children are driven onto the streets. There aren't the support services available for children to help them deal with their difficulties.
Ivana Bacik spoke of the legal aspects of the announcement the Minister had made back in February and condemned the absence of due process in legal proceedings which can become the basis of imprisonment. "No strict rules of evidence it seems are to be applied, only a balance of probabilities, upon which to 'establish' what becomes a criminal and imprisonable offence. You may object to someone repeatedly playing Do they know it's Christmas, but ABSOs and jail is not a way to deal with it in a democracy."
Niall Stokes, editor of Hot Press, then spoke of what amounts to "every crank's charter". He asked who are these orders aimed at, and went on to talk about the huge levels of intolerance in our society -especially towards young people - which often will condemn people for doing what they enjoy.
Any crank can exploit ABSOs, anonymously, and secure the imprisonment of those whom they may personally dislike. In Britain, a third of ASBOs have been breached, which criminalises a non-criminal act.
Sinn Féin TD Aengus Ó Snodaigh outlined the current position in Leinster House and the very limited opportunities for TDs to do anything about McDowell's intended amendment to legislation. "We need to address the root causes of anti-social behaviour, use the legislation already in place, divert resources, and look to the development of Community Restorative Justice, other diversionary programmes and the involvement of the community in dealing with what are social problems," he said. "Already, Ireland incarcerates a higher proportion of young people than any other EU country.
"Further criminalisation of young people from disadvantaged backgrounds is not a solution. Wide legislation is already in place: the Public Order Act of 1994, which addresses loitering; the Intoxicating Liquor Act, which brings many to court each day, and requires people to enter into bonds; and the Children's Act of 2001, only two sections of which have been implemented. It is resources that are needed, not legislation to criminalise the non-criminal."
Rory Hearne from USI chaired the meeting. He strongly endorsed Niall Stokes' invitation to sign the Hot Press petition (at www.hotpress.com), and to join a protest festival, starting at 2.30pm in Parnell Square, Dublin, on 11 June.